Unveiling the Civilized E-Bike: Where Luxury Meets Innovation | ZIZE Bikes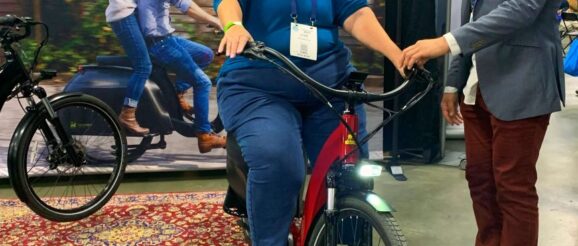 In the ever-evolving landscape of e-bikes and e-trikes, there are moments that stand out as true game-changers. Earlier this year, Joan Denizot and the ZIZE Bikes team embarked on a journey to the Cabda event in 2023, seeking the perfect products for heavy riders. After finalizing our relationship with Trivel and testing the custom Azteca e-Trike, the ZIZE Bikes teams looked for more solutions. Amidst a sea of sameness, one e-bike captured their attention and left an indelible mark – the Model 1 from Civilized.
Joan Denizot, the founder and driving force behind ZIZE Bikes, took the Civilized E-Bike for a spin, and what followed was an experience beyond expectations. It wasn't just a ride; it was a journey into innovation, comfort, and luxury.
The AirTech™ Suspension: Redefining Comfort
At the heart of the Civilized E-Bike lies its revolutionary AirTech™ suspension system. This self-leveling pneumatic rear suspension is a testament to engineering excellence. Imagine a ride so smooth that even the bumpiest terrains feel like a leisurely cruise. Joan herself attests to the suspension's prowess, stating, "When I sat down, the suspension system lifted me up to where it felt like I was on air."
Luxury Features for the Discerning Rider
Beyond its groundbreaking suspension, the Civilized E-Bike boasts an array of features that redefine luxury and elevate your riding experience.
Pioneering Panniers: Collaboratively designed with experts who have partnered with NASA and Nike, the hard-side pannier bags on this e-bike are nothing short of extraordinary. Finished with carbon panels, they seamlessly blend mechanical and textile elements, resulting in unparalleled functionality. With 20 liters of capacity when closed and a staggering 80 liters when expanded, these patented panniers redefine usability.
Strength and Style Combined: The Civilized E-Bike showcases a 100% proprietary frame that effortlessly accommodates riders with a capacity of up to 400 lbs. Crafted from custom forgings and hydroformed aluminum, this e-bike embodies both strength and style, providing a truly balanced and eye-catching design.
Seamless Drivetrain: Say goodbye to the hassles of chain grease and clothing snags. A fully enclosed drivetrain ensures effortless mounting and dismounting while keeping your attire clean and pristine.
Safety Redefined: Safety takes precedence with integrated features, including a tail light seamlessly nestled within the frame and a brake light to signal changes in speed. With a cargo capacity of 50 lbs, a PIN lock on the integrated display, and headlights that auto-adjust for oncoming traffic, the Civilized E-Bike prioritizes your well-being.
Powerful Performance: Beneath its luxurious exterior, a potent mid-drive motor with 750W of high torque awaits. It effortlessly merges into traffic, conquers hills, and accelerates smoothly. As a class 3 e-bike, it even offers a throttle for speeds up to 20 miles per hour without pedaling, with the option to reach a top speed of 28 mph when you choose to pedal. It's the perfect fusion of speed and convenience.
If you're someone who believes life should be comfortable, enjoyable, and extraordinary, the Civilized E-Bike is your answer. It's more than just a bike; it's a lifestyle upgrade that introduces a touch of luxury into your daily commute. Bid farewell to the ordinary and embrace the extraordinary with the Civilized E-Bike.
Engineered Experience
Equally as important as the product was our experience speaking with the owner, Zachary Schieffelin. He and his team understood our needs and took the time to demonstrate how the engineering and luxury experience work together for heavy riders.
We're thrilled to announce that ZIZE Bikes will now offer this exceptional e-bike, complete with a recommended seat upgrade available through Amazon.
Learn more about this exciting addition.