US unveils list of 31 technology hubs to push innovation under CHIPS act – Taipei Times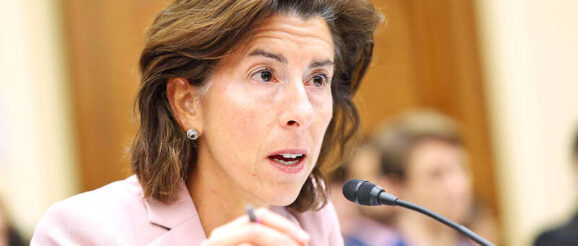 US unveils list of 31 technology hubs to push innovation under CHIPS act
AFP, SAN FRANCISCO
The US yesterday unveiled a list of 31 technology hubs that it is to create as part of the vast investment scheme that US President Joe Biden hopes will help him win re-election.
US Secretary of Commerce Gina Raimondo said that the centers would create jobs and boost national security and the economy.
The investments "further underpin our ability to compete, and frankly, outcompete the rest of the world," she said.
US Secretary of Commerce Gina Raimondo testifies before the US House of Representatives Committee on Science, Space, and Technology at the Rayburn House Office Building in Washington on Sept. 19.
Photo: AFP
The hubs were chosen from among 400 candidates and would compete for grants of as much as US$75 million.
They were created under the CHIPS and Science Act, a law passed last year that freed up US$52 billion in subsidies to stimulate US semiconductor production in the US.
Chips, essential in many industries including automobiles, electronics and defense, are made mainly in Asia, and the Biden administration has made the building of US chip factories one of its priorities.
Several tech hubs are to focus on semiconductors, such as the Texoma Semiconductor Tech Hub in Texas and Oklahoma.
"Entrepreneurs will be able to try new semiconductor designs, while ensuring workers from diverse backgrounds have access to get those jobs," Raimondo said.
"We've lost our edge in semiconductor manufacturing, and investments in earlier stage R&D [research and development] like this in Texas and Oklahoma will allow us to regain our edge [and] continue to lead," she added.
In 32 states and Puerto Rico, the tech hubs would specialize in fields such as the transition to clean energy, biotechnology and quantum computing.
"There are places in America like San Francisco, Southern California, Boston, etc that are de facto tech hubs and they've been the driving force behind so much of our innovation and prosperity," the secretary said.
However, "they don't reflect the full potential of our country," Raimondo said.
"America has so much more to offer, and those markets, Silicon Valley and such, they don't corner the market on great ideas," she said.