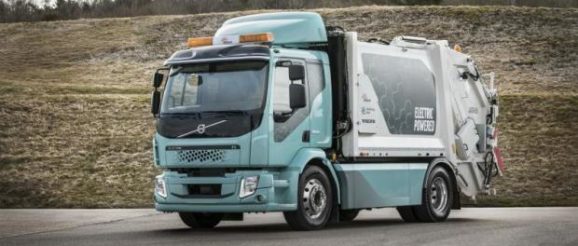 The electric version of the Volvo FL truck will be sold in Europe next year.
Volvo Group's business strategy to drive growth is innovation in automated driving, electromobility and connected vehicles, considered three pillars in the automotive industry.
The Swedish truck, bus and machinery manufacturer believes innovation in the transport sector can reshape the quality of cities in the future, allowing for quieter, cleaner and safer urban areas.
Though the group is dealing with strong competition in Europe and South America, in a small market like Southeast Asia, Volvo is faring quite well, said Lars Erik Forsbergh, vice-president of Singapore-based Volvo Truck International Southeast Asia.
The group's brand portfolio consists of Volvo, Volvo Penta, UD Trucks, Terex Trucks, Renault Trucks, Prevost, Nova bus and Mack. It also formed alliances and joint ventures with SDLG, Eicher and Dongfeng brands.
The group markets two brands locally — Volvo and UD — with sales volume of 1,211 and 4,300 trucks, respectively, across the region.
The three major markets are Indonesia, Thailand and Malaysia. Thailand houses an assembly facility with annual production capacity of 4,500 Volvo trucks and 20,000 UD trucks, run by Thai-Swedish Assembly Co in Samut Prakan.
Mr Forsbergh said the regional market is not ready for Volvo's latest innovations, but sentiment is improving, particularly in Singapore.
"Singapore is a bit ahead of Southeast Asia in terms of future innovations as the country has developed smart cities and has a lot of autonomous vehicles on roads," he said.
"We are optimistic that Thailand will have new technology for truck fleets, but Volvo is taking things step-by-step."
Forsbergh: Singapore ahead of the curve
Automated driving is tough to implement in Southeast Asia because it requires the support of government regulations.
"Singapore has started passing laws for safe autonomous driving, while Japan has introduced a lot of safety features and components in its regulations," said Mr Forsbergh.
"This has yet to happen in Thailand and Malaysia, but Volvo is confident such rules are being considered legislatively here, though it is not easy because Thailand has a complicated traffic situation."
He said the first step is to allow automated trucks to drive on highways, which is easier because they drive in the same direction with several lanes, allowing for different speeds.
"That is the possible start of implementing automated driving. Upon exiting the highways, the trucks will let them humans take over the driving," said Mr Forsbergh.
Citing five levels of automated driving from the US-based Society of Automotive Engineering, Volvo is working on the first and second steps — driver assistance (no feet) and partial automation (no hands).
Volvo said the group has no intention to introduce the third level, conditional automation (no eyes) because there is no safe reason to take the drivers' eyes off the roads.
The group will soon develop the fourth and fifth levels — high automation (no attention) and full automation (no driver).
"We are working on the first and second levels, seeking how to introduce the autonomous features to help drivers on their daily jobs in a bid to reduce their exhaustion and avoid any accidents," said Mr Forsbergh.
"Volvo has many new features such as autonomic braking, lane changing and I-shift gearboxes to assist drivers so they can just focus on finishing their jobs."
But he said the Southeast Asia market would need to implement not only Volvo's gearbox, which is assembled at the plant in Samut Prakan, but also other autonomous safety features must be applied step-by-step, which would take a long time.
"Of course, we have dynamic steering with exterior cameras and infrared censors that can monitor what is happening on the roads, and these features can start to connect all the systems. We have trucks that can drive by themselves technically, so I think we have developed all the technology for autonomous vehicles," said Mr Forsbergh.
However, Volvo's autonomous features do not comply with all the public road rules in European markets, and there are a lot of tests being conducted with other transport companies to find the best practices.
He said no truck companies sell fully automatic trucks as it will be a few years to work out the technology and regulations, which do not yet allow truck companies to send out trucks without drivers on public roads.
"Many European countries are starting to think about rules for autonomous truck driving. You have to think about how to regulate new technology when road regulation were made 40-50 years ago," said Mr Forsbergh.
"Nobody could imagine trucks without drivers before, but they need to now because it's becoming a reality. The technology is going to replace human truck drivers, and insurance companies have to work out how they will deal with the trend as well."
A lot of practical matters must be considered apart from setting up laws, he said.
Committed to electric trucks
Mr Forsbergh said electromobility for trucks is easier to apply in the Southeast Asia market and truck companies can replace the electric versions simply because this feature does not require a complete change in laws and regulations.
However, infrastructure for charging trucks is crucial, which this region lacks.
"In Europe, for example, the charging stations are still a bit limited along roads, so before electric trucks become widespread, transport companies must ensure they can recharge trucks anywhere," he said.
Mr Forsbergh said Volvo developed a fully electric truck two years ago, starting with a light distribution model before expanding to large and long-haul models.
"This new technology — electromobility or electric trucks — is around the corner and it will come soon. The second task is to apply in parallel the automation systems where possible to have the truck without the driver," he said.
Volvo introduced two electric models, the FL and FE, in Europe, though the charging infrastructure requires a system to be extended to trucks.
"That is still a limitation for commercial trucks to be charged, because electric trucks only have a short distance distribution per charge," said Mr Forsbergh.
"But truck battery development is progressing extremely fast, so driving distance per charge will soon expand."
Both the Volvo FL and FE models are equipped with 100-300 lithium-ion batteries, he said.