'We want Israel to have a competitive advantage for disruptive technologies': Dror Bin on the Israel Innovation Authority | Disruption Banking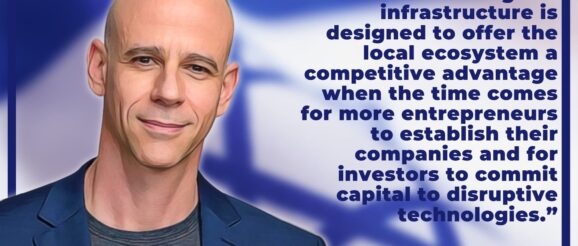 Around the world, Israel is known as the "Start Up Nation." The Middle Eastern country has the highest number of startups per capita anywhere in the world. While individual entrepreneurship and innovation is at the core of "Silicon Wadi's" success, most accept the crucial role successive Israeli governments have also played. Government investment in the military has helped spawn a huge cybersecurity sector, supported by publicly funded cyber innovation centres, such as in Be'er Sheva.
One of the most important authorities in Israel's start-up scene is the Israel Innovation Authority (IIA) in Jerusalem. Dror Bin, the CEO of the Authority, told Disruption Banking that "we are a corporate funded by the government and are responsible for the Israeli high-tech space." Bin explained that their central mission is to "sustain and improve the competitiveness of the local innovation hub."
"The global picture has changed fundamentally in the last decade. Today, we see many rising tech hubs around the world – in Europe, Asia, and other metropolitan areas in North America. All these tech hubs are competing for venture funds, which follow the best entrepreneurs and start-ups," Bin said. His job is to make sure that as much funding as possible flows to Israeli companies and not their competitors elsewhere.
For the first time in #Israel's history, high-tech exports accounted for more than 50% of the country's overall exports in 2021. (Photo: Ami Shooman) #israel #hightech #innovation #OECD #startupnation https://t.co/jdiqcsQPAY pic.twitter.com/RM6YvDu4J8
— Israel Hayom English (@IsraelHayomEng)
How does the Israel Innovation Authority seek to support start-ups in practice? Bin told Disruption Banking that one way is through directly investing in start-ups themselves through conditional grant funding. He said that investments are usually reserved for companies involved in "very disruptive innovation" and which are therefore considered to be "very high risk by the market." The role of the authority is to lower the risks for everybody and therefore ease the way for further private capital to come into the market.
Bin also noted that the Authority invests in what he called "innovation infrastructure." He outlined how the body has invested in "applied research, academia, human capital, buildings, labs, and infrastructure." This is all focused around building an accommodative environment for "emerging technologies that are going to be disruptive – building this infrastructure is designed to offer the local ecosystem a competitive advantage when the time comes for more entrepreneurs to establish their companies and for investors to commit capital."
The Israel Innovation Authority certainly has a large war chest: Bin told Disruption Banking that the organisation invests around $500 million every year, making it the largest fund in Israel for early-stage companies. It's not just about money: the Authority also works with start-ups to remove barriers to growth such as prohibitive regulation or overburdensome taxation. "Then we reach out to the relevant ministries or government agencies to work together on how to remove this barrier," Bin said.
Israel earmarks NIS 113 million to build R&D center for chip-based biodevices https://t.co/LMXdeNleCJ
— The Times of Israel (@TimesofIsrael)
What are the most disruptive technologies the Authority is currently interested in? Artificial Intelligence – of course – and quantum computing, Bin said. He also said that "bio-convergence technology" is of particular interest, "involving things like 3D printing of organs, being able to implant them through AI, as well as discovering and developing new drugs."
"The convergence between computer science, engineering, and biology is something we're investing in quite a lot," he added. "But we look at all the areas involving the big challenges for humanity."
The Israel Innovation Authority is currently grappling with practical matters, too, related to the global challenges faced by the global tech and fintech industry. "We have seen a very dramatic decrease in firm's ability to raise money because of the global macroeconomic environment, geopolitical tensions, and increases in inflation and interest rate – this means investors are not investing as much, particularly in riskier ventures. This isn't necessarily a bad thing – I think we saw a bubble emerge in the last few years in terms of valuations, in terms of the rise in salaries. Going back to reality is not necessarily bad," he said.
Today's @DisruptionBank Sunday interview is with Edouard Cukierman of the Catalyst Fund in Tel Aviv. "You have to zoom out from time to time. The economy of Israel is very strong, and we have become the superpower of the region."https://t.co/bf97THrAa8
— Harry Clynch (@clynchharry)
The Israeli high-tech sector is clearly facing challenges considering these conditions – arguably even more so than the rest of the world. Netanyahu's controversial package of judicial reforms prompted some high-profile tech investors to threaten to withdraw funds from the country. Bin is confident, as was Edouard Cukierman when he spoke to Disruption Banking in Tel Aviv, that Israel remains fundamentally strong. "At the end of the day, Israel is a strong democracy and political debate is more than legitimate – it's welcomed. I believe the political issues will be sorted out and solved soon, that consensus and agreements will be reached as soon as possible."
Will 2024 be an easier year for Israeli – and global – tech? Bin is optimistic about the long-term trajectory but said that "it's very hard to predict how long and deep this slowdown is going to be."
"There is a saying in Hebrew – since the Temple was demolished, the prophecy was only given to dumb people. It's very hard to predict what's going to happen."