With innovation center, T. Rowe Price makes local tech connections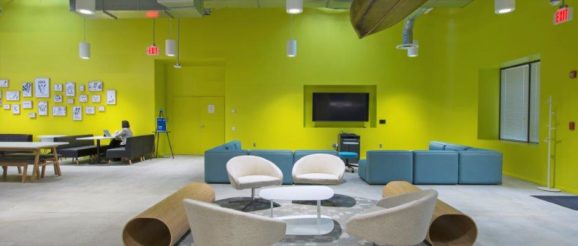 At office space in Linthicum Heights accented by bright colors and plentiful common spaces, T. Rowe Price is looking to create digital connections for clients. At the office, called the Client Experience & Delivery Transformation Lab, a team of 120 people developers, designers and data scientists are working in teams on "client journeys," or the interfaces and experiences through which clients interact with the company.
With the presence in Baltimore, T. Rowe Price is also looking to connect in person with the community locally. Rajesh Eshwar, who heads the Lab, spoke at the September edition of the Waterfront Tech Series. Earlier this year, designers got involved helping nonprofits at MICA's Grassroots DesignFest, which was sponsored by the T. Rowe Price Foundation.
The company is also hosting events inside its space. In September, the company hosted entrepreneurs and technologists from the Baltimore area, in which team members demonstrated how they use design and development practices intended to operate like a startup. This week, on October 2, the firm will play host to a forum titled The State of CX in Maryland organized by the Baltimore Network of the Customer Experience Professional Association.
"Staying engaged with our peers in the local technology, design, entrepreneurial, and academic communities is incredibly important to us," said public relations specialist Monique Bosco, adding that the company is "continuing to explore additional opportunities to participate in events, exchange best practices, and partake in initiatives" around the community.
The center is part of a tech push that the Baltimore-based investment management firm is undertaking across offices in multiple cities. Along with bringing change to the 80-year-old company, the activities surrounding the center indicate there's also an impact for Baltimore.  Here's a look at a few more photos:
A meeting room at T. Rowe Price's Customer Experience & Delivery Transformation Lab. (Courtesy photo)
Event space at T. Rowe Price's innovation center in Linthicum Heights. (Courtesy photo)
T. Rowe Price employs 120 at an innovation center in Linthicum Heights. (Courtesy photo)