Women Leaders in engineering, infrastructure, innovation welcome STI Decadal Plan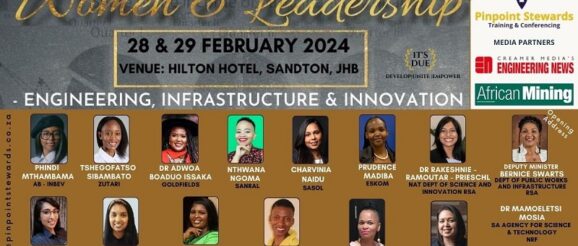 South African-owned conference company Pinpoint Stewards will be hosting a two-day conference honing in on home-grown leadership.  The 3rd Annual Leadership conference for women in engineering, infrastructure and innovation will take place on 28 and 29 February 2024 in Johannesburg.  The event will not only profile current leadership but will also identify new talent in STEM and bring women together from both the public and private sector.
"It's DUE" – Develop, Unite, Empower – is the theme of the annual Women & Leadership programme supporting the recently approved Science, Technology and Innovation Decadal plan. In September 2023, minister Blade Nzimande said, "Patriarchal attitudes, systematic barriers and certain practices and norms have defined women out of the research, scientific and technological developments that are engines of the Industrial Revolutions. The measures aimed at greater gender inclusion in our recently approved STI Decadal Plan (2022-2032) – our ten-year plan – include the STI Transformation Framework, and the STI Gender Strategy that is aligned to the government-wide gender responsive planning and budgeting framework…"
Engineering News and African Mining were the first media partners to back the event to ensure equal reporting of this women-powered event. Women in current leadership positions will be featured leading up the conference and each year the organisers discover new women who are doing an impeccable job.
The objective of the conference will be to see equality expand rapidly within STEM careers.  As part of this drive a panel discussion focussing on charters, policies and frameworks to support equal opportunities for women will be a central point of the conference discussion.
To ensure that the conversations at this conference are taken to the highest level, speakers and delegates in attendance will be mandated to drive it further into their spaces of influence.
Delivering the opening address will be honourable deputy minister, Bernice Swarts, Department of Public Works and Infrastructure. Dr Rakeshnie Ramoutar-Prieschl, acting DG of Technology Innovation from the National Department of Science and Innovation will tackle women in STEM, giving an African perspective. Managing director of the SA Agency for Science and Technology & NRF, Dr Mamoeletsi Mosia will be looking at ways to change the current statistics.
Other women taking to the podium include: Eskom's general manager for Research, Training and Development, Prudence Madiba; Charvinia Naidu, head of Sustainability Strategy, Sasol; Nthwana Ngoma, ICT services and operation lead, SANRAL; Naomi Naidoo, founder, Pink Africa Consulting; Gugulethu Ndlovu, project manager, SANRAL; Dr Adwoa Boaduo Issaka, unit manager safety, Goldfields; Phindi Mthambama, Africa Brewing and Quality director, AB-InBEV; Tshegofatso Sibambato, civil engineer, Zutari; Alisha Raghoonanan, project manager, Enel Green Power; Gladys Magagula, project manager, South African National Space Agency; Sindisiwe Sono, satellite operations technician, South African National Space Agency and Raksha Naidoo, chairperson WiMSA.
Organisations are encouraged to partner, exhibit and host a table for their women to join in the discussions and be inspired.
Sudhira Sewsunker, co-owner, Pinpoint Stewards notes, "At each conference Pinpoint Stewards sponsors 10 young professionals at university level to attend the conference and we connect these students to the conference delegates and possible mentors. With the support of sponsors, we are able to introduce more young professionals to careers in STEM."
For more information and the full conference brochure and activities planned, contact [email protected] (An EARLY BIRD Conference fee is available when registering before 15 December 2023)
Source: Supplied Pinpoint Stewards, edited by Sharyn Macnnamara
About Pinpoint Stewards:
The South African-owned conference company has 20 years of experience in research, management and organisation of onsite conferences – and more recently, online training platforms. The company is 100% women-owned and is a level 2 B-BBEE business.
---
The post Women Leaders in engineering, infrastructure, innovation welcome STI Decadal Plan appeared first on African Mining Online.