Working With Passion: How An Authentic Work Culture Drives Innovation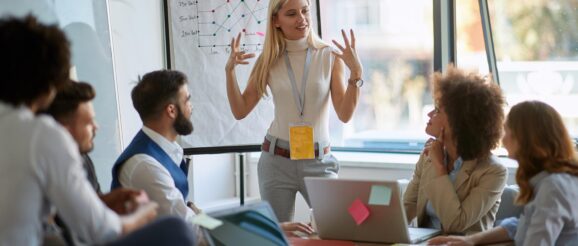 The last few years have been hard for work culture: The pandemic, notably, resulted in a lot of rapid adjustments and awkwardness as everyone switched to remote work; the digital currency boom and subsequent bust yielded a good deal of uncertainty and upheaval; and now, we're all having conversations about a looming recession. These events have resulted in a lot of highs and lows, even in businesses that have managed—at least in a financial capacity, at least—to thrive. Often, workplace culture has been deprioritized and has suffered as a result.
But agency owners can tell you that culture isn't an area to let slide. That's because they've all seen how work looks when there's a strong team dynamic in place, in which everyone is engaged, in a rhythm, and excited about what they're accomplishing. Once you've seen how much stronger the work can be, coming from that environment, you know you have to get back to that place where interesting conversations, excitement about projects and pure fun are part of the job.
In theory, all our jobs should be fun. This is not to say that work can be all moon bounces and cotton candy, but a product is always better when it is derived from an authentic place of emotional insight and personal interest. This is especially true for agencies: If you're just pulling data from a spreadsheet, anybody in the world could do the same, but how you differentiate your point of view and express your vision in a way that feels interesting and exciting is ultimately what defines you. Passion is vital for bringing to the table that fresh and novel viewpoint. For managers looking to facilitate that sense of fun, engagement and passion in their teams, and in the work they do—even in times of global stress and uncertainty—I'm happy to share some of the best practices we've surfaced in our agency.
1. Let your team members do what they love.
Everyone gets excited about different things. Whether it's basketball, or Web3, or fashion or animal rights, someone is interested in it—and that interest should be leveraged to power the project forward. Find your people who are most excited about the work in a particular space, and make sure they have roles to play. Having their background knowledge, attention to detail and passion projected into the work will result in a far stronger end-product than if it were completed by someone who was indifferent to that particular space.
2. Build team swagger and confidence.
People love to be experts. When you find what people love and are good at, give them the chance to excel in those areas—to learn more, to take on bigger responsibilities, to spearhead projects. Offer opportunities for professional growth and development, listen to team members, and provide whatever support they need to reach their professional peak.
3. Make time for play.
We have a whole bunch of gamers in our agency. As a result, we've had gaming nights, gaming afternoons, all kinds of gaming competitions. We constantly try to find opportunities for playtime, often within the context of team-building exercises. But, while it's great when playtime feeds professional development, it's also just as important to allow time to blow off steam, goof around and have fun. Especially in extremely stressful work situations, having downtime and a good laugh can really transform the workplace dynamic for the better.
4. Manifest cultural intelligence.
In our agency, we feel it's particularly important to support and sustain interesting cultural conversations and understanding, and to support diverse perspectives and backgrounds. One really simple way we did this was to make an audit of magazines and cultural media sources that people were interested in, and based on those responses, purchase a lot of subscriptions for everyone in the office to enjoy. We try to constantly create opportunities and events for people to share music, art, cultural traditions and other interests. We believe having different types of conversations and constantly hearing unique viewpoints makes us versatile and allows us to better serve a diverse range of customers.
We're all in an era where great work is, to a certain extent, defined by authenticity. Consumers are expecting brands to show up for their values in a way that they never did previously, and first and foremost among those values is a commitment to representing diverse perspectives.
But for truly creative agencies, authenticity has always been the lodestar of innovative work. Fostering a culture in which your team members feel free to represent themselves authentically—and to do work that aligns with their own deepest values, interests and commitments—is how you deliver products and services that delight, inspire and transform.
Forbes Agency Council is an invitation-only community for executives in successful public relations, media strategy, creative and advertising agencies. Do I qualify?