XIII Regional Innovation Policies Conference 2018: BeyondEDP Presentation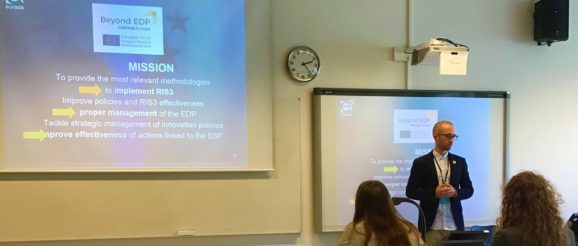 The Interreg Europe project Beyond EDP has been presented in the 13th Regional Innovation Policies conference held at the Western Norway University of Applied Sciences (HVL) in Bergen (Norway), taking place on the 11th and 12th of October 2018.
This conference specifically wants to gather contributions investigating responsible innovation from a regional perspective, where critical discussions and analyses of the role of regions and regional policy in contributing to sustainable and responsible regional development is particularly welcomed.
Participants from all over the world like Taiwan, United Kingdom, Poland or Spain have meet to share their experiences in the management, promotion and support of innovation, being particularly remarkable the presence of Andrés Rodríguez-Pose, professor of Economic Geography at the London School of Economics, as keynote speaker.
Nowadays, public administrations are asked to manage better than ever their budget, since economic resources are more limited than in the past. Regarding to this, the European Association of Development Agencies (EURADA), as partner of the Interreg Europe project Beyond EDP, has promoted innovation camps as a tool for better implementing the Entrepreneurial Discovery Process (EDP), since this methodology is intended to develop new innovation "discoveries" which eventually will become new economic strengths, and "must be carried out within the framework of strategic interactions between the government and the private sector" (Foray D, 2015).
Developed by Aalto University and the New Club of Paris, innovation camps are meant to identify and tackle locally the societal and economic challenges that a region faces, applied to RIS3 by the JRC and the CoR.
Each region has faced their development in a different manner. EURADA has identified several formats, and has analysed different ways of implementation in Brussels, Gabrovo and Valencia, focusing on the latter as a good practice to learn from. There they are called "labs" due to their experiential risk component, being a process of dialogue among the different actors of the Quadruple Helix (administration, academia, business and society), energized by an initial group led by the Valencian government. It defines specific challenges on which to focus innovation policies, with the purpose of facilitating the EDP.
As a result, three labs have been created till now: agri-food, industry and sport. They are intended to create and develop a local culture of innovativeness, responding always to the priorities of the Valencian RIS3.