Xingyao Science and Innovation Park l gad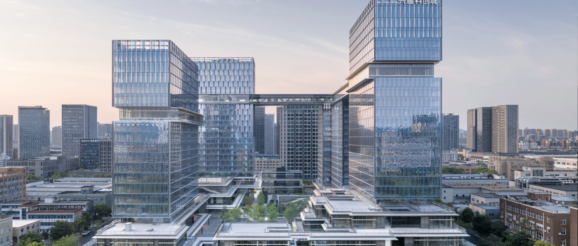 Xingyao Science and Innovation Park stands proudly within the vibrant Hangzhou Hi-Tech Zone, encircled by a constellation of science and technology parks and industrial hubs. The Xingyao Science and Innovation Park is nestled between aged industrial towers from the previous century and a handful of emerging science and technology enclaves. Yet, this spatial expanse seems monochrome, lacking hubs for social interaction and leisure, while the urban services appear frail. However, the Xingyao Science and Innovation Park's intent surpasses mere internal office functionality. A paramount focus now rests on integrating affirmative, open urban domains. It interfaces into the precinct's periphery – a pivotal element embedded in the design.
Xingyao Science and Innovation Park's Design Concept
The Xingyao Science and Innovation Park's architecture harmonizes seamlessly with the urban context, unfolding an inviting visage towards the city – an Open City Interface. The north-facing base accommodates the city entrance square, an expansive window manifesting the park's essence. An urban oasis springs forth to the south, leveraging existing landscape assets like water features and foliage.
A landscaped garden takes root, its beauty extending as a visual corridor southwards, reimagining the original 17-story northeastern office building while seamlessly incorporating three new lofty structures. An enclosed layout emerges, encompassing the historic foundations. These are bridged through elevated corridors, crafting a sense of unity across the park – a dynamic northern expanse in harmony with the static southern realm. This expansive design not only forms an open and airy architectural persona at the urban juncture but also offers a spacious arena for communal activities.
Within the Transparent Park Space, internal design pivots on optimizing routes through the Xingyao Science and Innovation Park, considering diverse user behaviors and preserving permeability. Corridors interconnect courtyards, while podium recesses birth air gardens, serene havens for repose. A circuitous ecological promenade takes shape, weaving around the low-altitude enclosure.
The ground floor perpetuates the layout, interspersing natural entrances amidst greenery-laden plazas and tiered rooftop gardens. These spaces, varying in elevation, dismantle monotony, presenting delightful resting niches. The sunken courtyard-centralized ground floor landscape acts as an interactive nucleus. An outdoor expanse fluidly unites building and shared space, dissolving indoor-outdoor demarcations via staggered design and evergreen vistas.
The Free Multi-tower Connected Structures accommodate the dynamic life within towering office spaces. L-shaped high-altitude corridors interlink three main structures, establishing a multifaceted nexus. This configuration bestows panoramic mountain vistas to high-rise offices and provides generous recreation areas. However, this innovation brings forth structural challenges for the retained northern edifice. Ingenious solutions, from static pressure piles to composite materials, bolster the building's seismic robustness, minimizing the need for excessive reinforcement.
Adaptable Function Combinations delineate each building cluster, endowing them with distinctive interrelationships and spatial traits. Catering to diverse office scenarios, smaller office spaces align with the low-rise podium. These compact units interlace, creating offices interconnected with courtyards and terraces. The main building stands as distinct entities yet remains seamlessly joined through high-altitude corridors, catering to medium and large offices.
Public spaces' flexibility welcomes nature's elements, inviting sunlight and fresh air. Foyers and corridors serve as canvas-like frames, capturing external vistas. On each standard floor, thoughtfully positioned shared areas foster collaboration, relaxation, scenic contemplation, and group engagements. By permeating grey spaces throughout, indoor-outdoor partitions dissolve, forging closer spatial connections and enabling functional metamorphoses and efficient spatial arrangements.
Xingyao Science and Innovation Park's advent obliterates the urban public domain void. It not only reshapes the office environment but transforms the urban interface, offering a refreshing panorama. This nexus of innovation brings spatial luxury and a fresh outlook on the urban fabric.
Project Info:
Architects:

Area: 

Year: 

Photographs:

CreatAR Images

Manufacturers:

Qibin Glass

, 

Xingfa Aluminum

Engineering: 

gad Design

Landscape: 

gad Design

Interior Design: 

Matrix Design

Clients: 

Xingyao Holding Group

City: 

Hang Zhou Shi

Country: 

China
The post Xingyao Science and Innovation Park l gad appeared first on Arch2O.com.