Bangor University Arts & Innovation Centre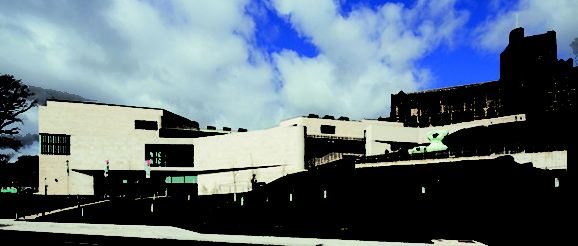 Pontio: Bangor University Arts & Innovation Centre
Grimshaw's design for the Bangor University Arts and Innovation Centre unites the university and the city of Bangor in a landmark scheme that centres on the unique identity of the city, whilst complementing the University's heritage environment.
Known as Pontio, the Welsh verb meaning 'to bridge,' the centre physically bridges the university's upper and lower campuses via a stepped arrangement of public terraces that connect and flow into an 'internal street.' This 'street' stems from a newly forged visual connection between the 1920s Memorial Arch through to the imposing Grade I listed Main Arts Building atop Altheny ridge. A grand picture window provides views back towards the city and the Grade II listed Bangor Cathedral.
The Arts and Innovation Centre's architectural expression is sculptural, calm and elegant and conveys the activities within through a series of discreet columns, tied together by a connecting foyer and circulation space that visually and physically links the building's users. The resulting internal space is a dynamic, fluid and lively environment; a hive of activity, with students and visitors engaging in performances and teaching across multi-purpose spaces.
This building is designed not just for the university but also for the wider community. There are many adaptable environments with a range of indoor and outdoor performance spaces, a 450 seat flexible theatre, white box, black box, cinema, bar and coffee shop. A 500-seat lecture theatre straddles the adaptable theatre and complements a range of flexible social learning spaces, a student union and an innovation area for local businesses, blurring the line between the university and the city.
Materials were chosen to reflect the building's setting with natural stone clad volumes emerging from the hillside and integrating a series of external terraces. Façade materials reflect the unique function of the building combining both arts and innovation.
Boon Edam Limited specialise in the design, manufacture, installation and service of innovative entrance solutions, including revolving doors, high security doors & portals, turnstiles and speedlanes. On the Bangor University Arts & Innovation Centre, Boon Edam Limited designed and installed the all-glass Automatic Crystal Tournikets revolving doors.
John Ashton, Area Sales Manager, Boon Edam Limited, commented:
"The virtually frameless construction provides the optimum daylight to enter the lobby, whilst reducing draughts and contributing massively to the comfort and climate of the lobby."
John added:
"We're always proud to be involved in projects that serve a purpose such as educational facilities, whether that's enhancing an existing structure or new build. We've found that major facilities are bettering student experiences, so when we're invited into a project through specification we always jump at the chance to get involved. It's great to see the education sector winning prestigious architectural awards."
Centre Stage Engineering specialise in the manufacture and installation of mechanical and electrical stage engineering equipment for theatres, concert halls, performing arts centres and conference centres. The company has 8,000sq.ft. of factory space which is used to fabricate and test all the equipment before it is delivered to site.
Working on the University of Bangor project, Centre Stage Engineering supplied all the stage engineering equipment including two auditorium lifts, 18 mobile seating wagons, two lighting bridges over the auditorium, the overstage grid steelwork, sound and get-in doors, plus 19 computer-controlled motorised high speed hoists for moving scenery and lighting in a performance mode.
Ian Napier, Centre Stage Engineering Commercial Director, said:
"As the sole supplier of stage engineering equipment to such a prestigious project, it provides us with a platform whereby we can demonstrate the full range of equipment that we can provide as well as highlighting the ability of our installation teams to install large and complex equipment in such an iconic building."
Reducing energy consumption
The Education and Arts buildings presented a unique set of design challenges, with the need to provide a high-quality learning environment whilst achieving the lowest possible energy consumption. Starting with construction, the design team selected materials and systems with efficient quantities which could be sourced, when applicable, from local suppliers.
Passive heating was achieved through effective space planning. Dark spaces within the scheme have been positioned low and to the rear of the building, with day lit spaces to the top and front. Central circulation areas are unheated and rely on solar gains from special glazing selected to reduce glare but optimise thermal performance.
Energy demand has been reduced where possible with the thermal envelope tuned to reduce losses and control thermal gains, and systems are zoned and can be turned back off when not in use.
Daylight in teaching spaces is maximised through carefully designed roof lights, providing a pleasant teaching environment while offsetting lighting energy usage.
As part of an Energy strategy, a tri-generation scheme has been provided which incorporated heating, cooling, and on-site electricity production via a gas-fired Combined Heat and Power and Absorption Chiller. The CHP system delivers 15% of the total building's annual energy consumption and has achieved a 26% reduction of the building's carbon profile.
The surrounding landscape is the result of a biodiversity action plan and works in harmony with other local plans while creating a link to the adjacent public gardens. Sustainable drainage systems are employed across the landscape and building design, with water conservation measures implemented throughout with a careful selection of fittings and appliances.
Grimshaw won the design competition in November 2009 and took the project to tender. Pontio then opened to the public in November 2015.
The Pontio Arts and Innovation Centre has since grown into a popular venue, catalysing the cultural and civic life of Bangor. It has also recently been successful in the 2018 RIBA Awards winning a Welsh Architecture Award. Commenting on the award, Leandro Rotondi from Grimshaw said: "Since its creation, over thirty years ago, Grimshaw has won awards both nationally, and internationally, including the RIBA Awards. We are thrilled to have won a RIBA Award for this project, as it is one of the most widely recognised and regarded accolades in the industry."
The post Bangor University Arts & Innovation Centre appeared first on Premier Construction News.