DFW Innovation Economy: Funding the Future in Four Charts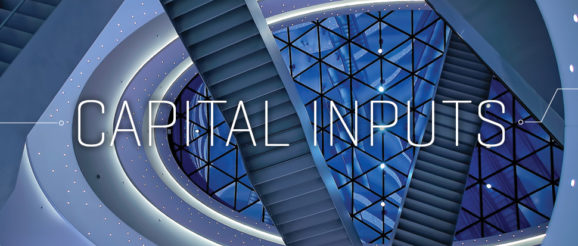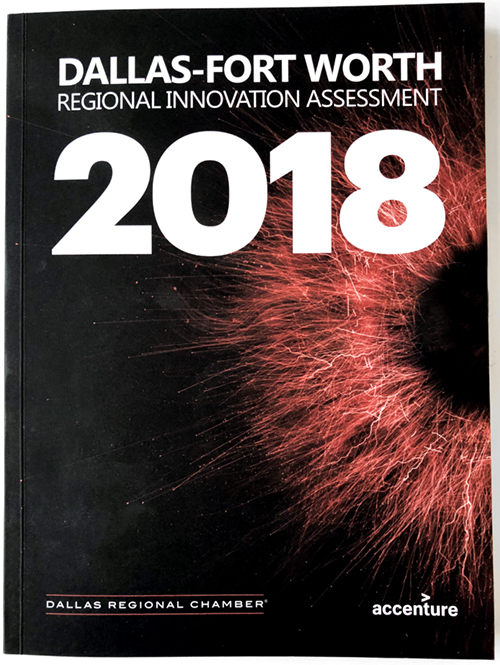 The Dallas-Fort Worth Regional Innovation Assessment 2018
DFW Innovation Economy is a serial look at chapters from the 2018 Innovation Assessment produced by the Dallas Regional Chamber (DRC) and Accenture. Each chapter of the Assessment comprises key metrics that can be tracked over time to evaluate the strength of Dallas-Fort Worth's innovation economy in relation to competitor metropolitan areas. Measures related to patent production, venture capital flows, educational attainment, business climate and various metropolitan rankings help to paint a picture of innovation-driven economic growth potential of DFW.
In this sixth installment about the drivers of an innovation economy, we look at everyone's favorite topic—funding. Funding is a crucial input across the innovation landscape. Both corporate and university R&D efforts require a stable financial support system to ensure that life-improving technologies, such as medical breakthroughs, make it to market. Capital is just as crucial for the entrepreneur, who requires investment through each stage of bringing an idea to fruition. The flow of funding into innovation activity is an important consideration for any region that is continually working to remain competitive.
THE UNIVERSITY CONTRIBUTION
Universities have always served the function of accumulating knowledge and encouraging discovery. Today, metropolitan areas and their states count strong universities as essential for creating a talent pipeline that can meet the demands of an Innovation Economy. Additionally, technology transfer and commercialization can generate enormous economic impacts as well as encourage industry–university collaboration. R&D expenditures by educational institutions reflect regional productivity in innovation output. Per capita expenditures are influenced by the concentration of R&D facilities for the population served.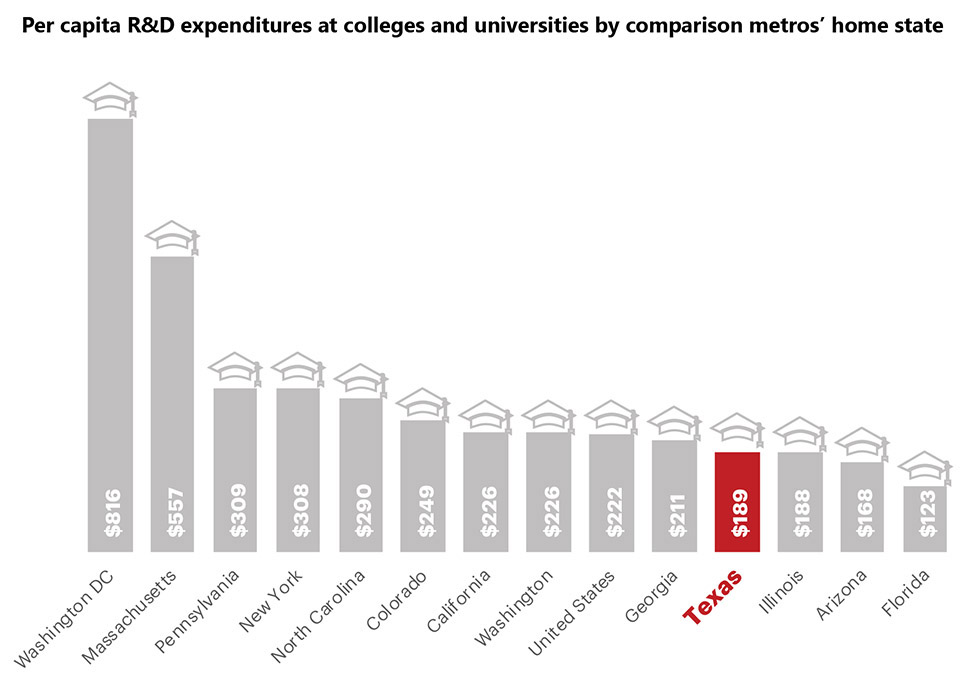 Source: National Center for Science and Engineering Statistics, National Science Foundation, 2016.
FUNDING HEALTH INNOVATION
Improving access to life-saving drugs, containing the cost of new drug development and protecting patient privacy in the digital age are just a few of the challenges facing the health industry. The need to continuously innovate may be nowhere more apparent than in this industry, charged with human health care. The National Institutes for Health (NIH) is the largest public funder of biomedical research to support such innovations, so the dollar amount of NIH awards flowing to a metro can hint at biomedical advances originating in that region.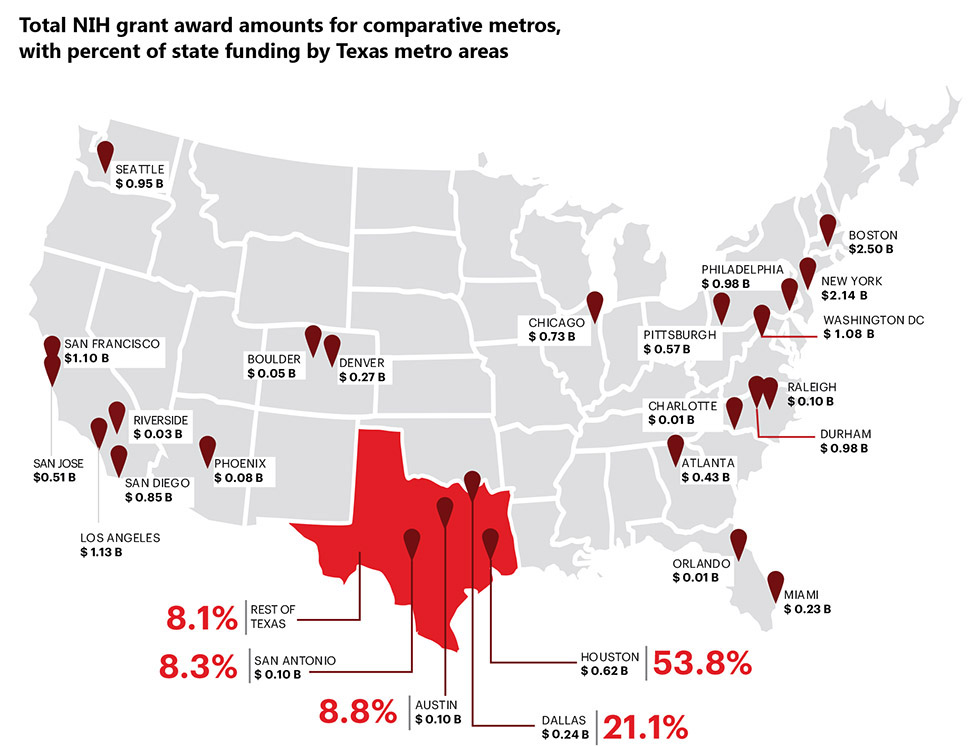 Source: National Institutes of Health, 2017.
SMALL BUSINESS, BIG IMPACT
The Small Business Administration (SBA) recognizes the link between entrepreneurial innovation and a positive impact on economic growth. With an annual set aside of $2.2 billion, the SBA offers substantial encouragement for small businesses to bring innovative technological solutions to market through two highly competitive funding opportunities. The Small Business Innovation Research and Small Business Technology Transfer programs distribute funding through various federal agencies to boost collaboration and commercialization. Nearly half of all awards flow to only six states, which includes Texas.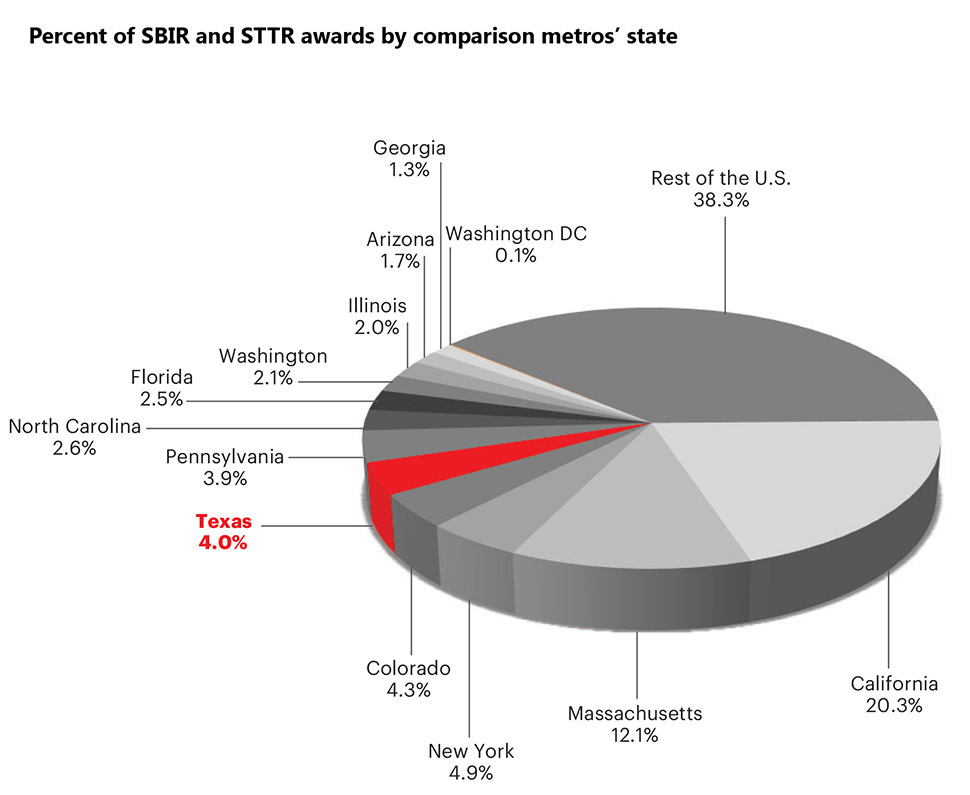 Source: US Small Business Administration, 2008–2017.
VENTURE SEEKING POTENTIAL
The Kauffman Foundation notes that without risk-takers who found startup businesses, there would be no net job growth in the US. The venture capital (VC) industry is an important source of funding for the startup world, and thus, an important piece of the US economy. Venture capitalists often step in to fund innovative startups that typically have limited access to traditional forms of capital, such as bank credit. VC funding also plays a significant role in the next stage of innovation—concept commercialization. The vast majority of investment flows to the East and West Coast metros with mature startup ecosystems. Interior metros are striving to strengthen homegrown startup communities to gain VC attention.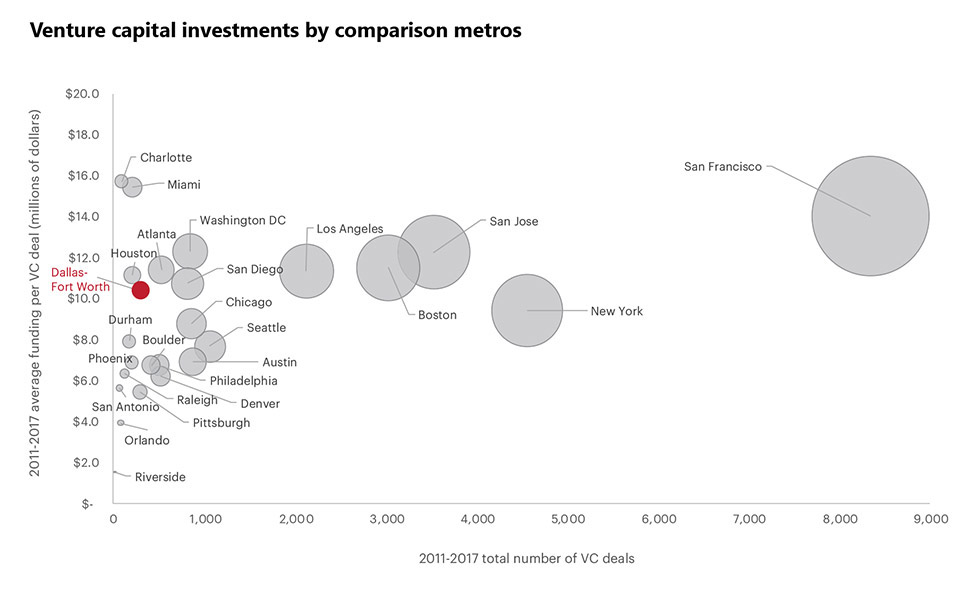 Size of bubble represents total dollar amount of deals. Source: PwC/CB Insights MoneyTree™ Report, 2011–2017.
READ NEXT
Part one captures how experts position DFW as a center for innovation. See how DFW stacks up in a Scorecard that benchmarks our rankings against peer cities.
PART 2: DFW INNOVATION ECONOMY
People Power
Part two in our innovation economy series highlights population growth and talent attraction as a first look at regional innovation potential. Here's how DFW stacks up.
Part 3 of our innovation economy series explores the theme of knowledge — the current state of educational attainment and the quality of educational opportunities by metro area. Here's how DFW stacks up, in four charts.
Part 4 of our innovation economy series examines the role of ideas — where they are nurtured and how to protect them. 
Part 5 of our innovation economy series explores entrepreneurial communities and why metros including DFW are increasing efforts to support them.
PART 6: DFW INNOVATION ECONOMY 
Capital Inputs
Part 6 of our innovation economy series addresses access to capital — and where we stand — in 4 charts.
Get on the list.
Dallas Innovates, every day. 
Sign up to keep your eye on what's new and next in Dallas-Fort Worth, every day.