Disney's History Of Innovation: Snow White, Disneyland, And More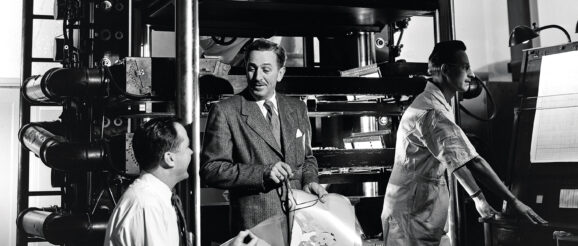 In 1937, Walt Disney was desperate to find a way to make "Snow White and the Seven Dwarfs,"the first feature-length animated movie ever made, actually feel like a feature-length movie. He'd been doing his best to ignore the naysayers who christened the very idea of the film as "Disney's folly." But they did trigger a nagging concern for the 35-year-old studio chief: Audiences might reject an animated movie if it remained stuck in the realm of the flat, two-dimensional shorts that had propelled Mickey Mouse to worldwide celebrity. 
"People said, 'Nobody will sit through an hour-and-90-minute cartoon,'" Becky Cline, director of the Walt Disney archives, tells Variety. "'Their eyes will start bleeding.'" 
So Disney decided to do the thing that had served him so well since he and his brother Roy founded the Walt Disney Co. (originally the Disney Brothers Cartoon Studio) in 1923: Innovate. 
He tasked his machine shop with building a mechanism that could create the illusion of three-dimensionality by manipulating up to four layers of animation within a single frame. They called it the "multiplane camera"; when the studio tested it first on a stunningly crafted short called "The Old Mill" before using it for "Snow White," Disney was thrilled by how well the camera provided the feeling of depth he craved, nimbly moving the audience through the story at key moments rather than force them to statically observe it. After "Snow White" opened at the Carthay Circle Theatre in Los Angeles on Dec. 21, 1937 to an ecstatic reception, Disney boasted to Time magazine about his "swell camera," saying, "I get a kick just watching the boys operate it." 
In truth, it was an agonizing process.  
As recounted in Neal Gabler's 2006 biography, "Walt Disney: The Triumph of the American Imagination," the 12-foot tall apparatus "required at least four men to operate it — though depending on the difficulty of the shot, there could be as many as eight men clambering around on it, each cranking his level one-hundredth of an inch forward to simulate a dolly, or left and right to simulate a pan." Since no one at the studio had ever used a camera like this before, the already painstaking process of animation slowed to an excruciating crawl, made even more arduous by the broiling heat generated by the eight 500-watt bulbs needed to light each layer of animation. Animators on "Snow White" labored on the razor's edge of exhaustion up to virtually the last minute, concluding principal photography on Dec. 1 — just six days before the movie's first sneak preview. 
All that work, however, was far from "folly." "Snow White" became the highest-grossing movie ever at that time, heralding a brand new cinematic art form. Most crucially, its success catapulted Disney from a wildly successful animation studio to arguably the most consequential creative force of the 20th century. As Gabler asserts in his book's introduction, Walt Disney "reshaped the culture and the American consciousness" by becoming the first person to "bundle television programs, feature animation, live-action films, documentaries, theme parks, music, books, comics, character merchandise, and educational films under one corporate shingle." 
In other words, the Walt Disney Co. — which celebrates its 100th anniversary on Oct. 16 — was the first modern media company, built on its founder's abiding conviction that storytelling can be made greater by relentlessly pushing beyond the boundaries of what's possible. 
"Walt always said, 'I can never stand still. I must explore and experiment. I am never satisfied with my work. I resent the limits of my own imagination,'" Cline says, citing one of Disney's famed aphorisms. "He was always trying to find a new way to use the technology of the time. That's something he did in everything."
Creative Payoff  
Sometimes, Disney's relentlessness tested the patience of his closest collaborators. In 1932, he became fixated on securing exclusive use of Technicolor's brand-new three-color process for the studio's Silly Symphony animated shorts, part of Disney's single-minded pursuit of greater realism. But on paper, it didn't make much business sense. The Technicolor process, writes Gabler, was "three times as much as black-and-white in lab costs and about a fourth more in production costs." Roy Disney, who managed the company's books, was "adamantly opposed" to using it. 
As was so often the case in his life, Walt won the day and proved that creative ambition could pay off in the long run. The exclusive Technicolor rights, says Cline, put Disney "eons ahead, because he was the only one making these full-color cartoons for several years" — further cementing the Disney brand as one of peerless quality. 
The cost of converting Disney's shorts to Technicolor was supported in part by another, more mercenary innovation: merchandising. After "Steamboat Willie" — the first-ever animated short with synchronized sound — made Mickey Mouse an overnight star in 1928, the company began selling licenses for household items bearing the character's likeness. But it wasn't until the Disney brothers partnered with Herman "Kay" Kamen, a Kansas City salesman specializing in department store promotions, that the studio became the merchandising behemoth we know today.  
In 1938, Kamen told the New York Times that, in the first three months after "Snow White" opened nationwide, Disney had sold $2 million worth of "Snow White handkerchiefs" and more than $2 million worth of tie-in toys.  
"'Snow White' is Disney's first full-length picture," the Times marveled. "What is going to happen when he really gets into his stride? Industrialized fantasy? It should be industrially fantastic." Indeed, by 1947, Kamen said Disney's merchandising department was earning annual receipts of $100 million — adjusted for inflation, roughly $1.3 billion.  
A regular diet of material fed the merchandising, which helped keep the studio afloat financially — a symbiotic relationship formed out of necessity to keep the entire enterprise aloft. 
"Animation takes a lot longer to do," says Cline. Disney "would work for three, four years on a film, whereas Fox or Warner Bros. or MGM would crank out 20 films a year."
Small Screen Vision
By the 1950s, as Disney continued to diversify, the company further expanded what it means to be an entertainment company. A step into live-action filmmaking with 1950's "Treasure Island" was something of an obvious decision — though no less daunting for an animation company that had never attempted to make one before. The bigger surprise was both Walt and Roy Disney's enthusiastic embrace of television, an invention that every other film studio viewed as no less than an existential threat to the movie business. The Disney brothers, however, regarded television as a potential partner, and a powerful one; the company's first TV production, the special "One Hour in Wonderland," was created explicitly to promote the upcoming release of "Alice in Wonderland." 
Disney was particularly keen to use television as an economic and promotional engine for perhaps the biggest and wildest gamble of Walt's lifetime: Disneyland. (The studio secured a deal with ABC to help finance the park in exchange for a TV series bearing its name.) Despite unfettered access to the full Disney archives, Gabler couldn't pinpoint when precisely Disney decided to create his "theme park," though it's clear that he started to ruminate on the idea after he began taking his daughters to the merry-go-round in Griffith Park and got bored. 
"He would sit there and eat peanuts while they rode the carousel over and over," says Cline. "He was enjoying spending the time with his children, but he didn't feel like it was entertaining him specifically. At that time, carnivals were considered kind of dirty places. Walt wanted something that would be clean and bright and family-friendly, that everyone could enjoy and feel safe."  
In 1952, Disney formed WED Enterprises as a kind of creative think tank that could incubate the possibilities for the park. He encouraged the WED staff (who would later be dubbed "Imagineers") to draw from a vast array of inspirations — not just Disney's trove of characters, but other parks like Knott's Berry Farm in Orange County and Tivoli Gardens in Denmark — to create, as Gabler writes, "a full imaginative universe that could provide a unified experience … truly a land rather than an amusement park. Disneyland would be something for which there was no antecedent." 
Just about everyone in Walt Disney's immediate circle was nonplussed (at best) by his yearslong obsession with creating Disneyland, but the results spoke for themselves: After the park opened on July 17, 1955 (an event broadcast live on ABC with 29 cameras), Disneyland brought in more than 161,000 visitors in its first week, and averaged 20,000 visitors a day in its first month. By 1957, Disneyland "exceeded the Grand Canyon, Yellowstone Park, and Yosemite Park as a tourist attraction," writes Gabler.
Re-imagineering the Future 
By the 1960s, Disney had started forming plans for what would become Walt Disney World outside of Orlando, Fla., but he died — in 1966, from lung cancer — before construction began. Without Walt and his tenacious commitment to transformation, the company began to drift, until a renewed investment in animation in the 1980s catalyzed the Disney renaissance of the 1990s. 
By that point, however, Disney had inspired generations of artists to apply the same restless creativity to their own pursuits, no more so than at an upstart computer graphics company that eventually became Pixar Animation Studios. It was staffed in the early 1990s with young graduates from the animation program at CalArts, originally founded by Walt Disney specifically to train artists to work at his studio.  
"We went into [CalArts] wide-eyed and desirous to work for Disney," says director Andrew Stanton ("Wall-E"), who was hired at Pixar in 1990. "I mean, there was nobody else. It was the air you breathe. It's that fundamental." Instead, the young artists at Pixar followed in Walt's footsteps utterly: Rigorously experimenting with computer animation, first with a series of animated shorts, then culminating with 1995's "Toy Story," the first fully computer animated feature film, which forever changed the course of the artform. 
"We weren't trying to replace or top him," Stanton says. "We just wanted to continue the feeling we got when we went to the theater and watched great animation." 
This November, Walt Disney Animation Studios aims to honor the company's history and its principles of innovation with "Wish," its 62nd animated feature. The filmmaking team fashioned a visual language that evoked the two-dimensional watercolor designs from the studio's earliest animated efforts and then incorporated them into the three-dimensional computer animation. The aim is to summon the same subtle but unmistakable layering effect created by the multiplane camera decades ago.   
"It's built layer-by-layer and not put on top of CG," says Disney animation chief Jennifer Lee, who also co-wrote "Wish." "That's what's so important. There were things we didn't know how to do, not just at the beginning, but midway through that we had to solve. They started with the artists: What is the emotional effect you want? What is the look you want? How do you get into the detail of the beautiful hair, the cloth movement? How do you then pay homage to what animation truly is?" 
Walt couldn't have said it better himself.
McKinley Franklin and Jazz Tangcay contributed to this story.