Frankfurter Buchmesse's THE ARTS+ Contextualizes AI, Innovation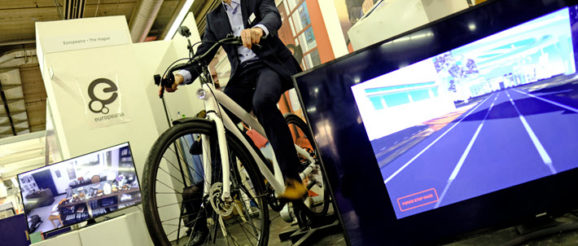 This year embracing the 'A Book Is a Film Is a Game' program, introducing a new creative AI forum, and stating three 'micro-conferences' of its own, THE ARTS+ at Frankfurter Buchmesse looks at the 'cultural heritage of tomorrow.'
Image: Frankfurter Buchmesse, Alexander Heimann
'What Will Be Our Cultural Legacy?'
Dubbed "a showroom for the future of the cultural and creative industries," this year's THE ARTS+ programming at Frankfurter Buchmesse (October 10 to 14) is being described as comprising three two-hour "micro-conferences" as part of its offering.
All three of these conference events are being developed to address a forward-looking inquiry into its issues and to include keynote addresses by nationally and internationally placed speakers, headlined by augmented reality specialist Galit Ariel, digital strategist JiaJia Fei, and technology investor Frank Thelen.
THE ARTS+ programming runs parallel to that of other events at Frankfurter Buchmesse, and is set in Hall 4.1.
By way of explaining its intent, Buchmesse vice president Holger Volland says, in a prepared comment, "How does our understanding of culture and creativity change when it comes from machines? What will be our cultural legacy for future generations? Who will cultivate and curate it, and how?
"These are questions we will discuss at THE ARTS+ with politicians, museums, media companies, creatives, designers and pioneers from the technology and economic sector."
Themed on "the cultural heritage of tomorrow," opening remarks from Volland, Zukunftsforschung Daimler AG's Alexander Mankowsky, and IBM's Dirk Heitmann will be a part of the show's events on October 10.
Speakers and performers at THE ARTS+ 2018 include, from left, JiaJia Fei, Frank Thelen, Mark Mattingley-Scott, and Moon Ribas
The Three 'Micro-Conferences'
The structure lent to the effort by the three short conferences is helpful in mapping out what it offers. Each of them runs from 2 to 4 p.m.
More speakers and performers in THE ARTS+ programming for 2018 include, from left, LIZZY, Thorsten Unger, Matteo Pozzi, and Anne Sauer
Focal Events
In addition to the micro-conferences, there are programming elements being brought into the THE ARTS+ context, some new and some familiar.
This year's Innovation Summit, set on the Wednesday, October 10, is anticipated to include more than 100 players in business, culture, technology, and politics. With an opening question, "How can the cultural and creative sectors bridge the innovation gap?" participants are asked to consider components of a new financial and political framework that illuminates how the creative sector sees and rationalizes itself.
The second event, also familiar, is the program called A Book Is a Film Is a Game. Staged on the Thursday, October 11, this part of THE ARTS+ is designed to bring together professionals from books, film, games, and new media. This year's program is dedicated to new trends and developments in audio-visual storytelling, with a focus on book and television series. Networking is emphasized in this event, which is to be highlighted by a panel titled Make a Change: Female Leadership in the Digital Age, which has the cooperation of the Erich Rommer Institut. Series of Success: The Rise of the Series Based on Books features West of Liberty based on Thomas Engström's series, and will feature Engström's comments along with those of Anagram Sverige's Gunnar Carlsson and ZDF's Bettina Wente.
And the third event is a first. Called the Frankfurt Creative Artificial Intelligence Conference,  it's scheduled for the fair's Friday, October 12, from 10 a.m. to noon, and will feature Volland, who is the author of Die kreative Macht der Maschinen (The Creative Power of Machines). The point in this case will be to examine what AI holds "for the art and creative industries, from design, curating and translating, all the way to sales and marketing." Speakers joining Volland include David Linderman, executive director of creative and content with IBM iX + Aperto;  Jens Klingelhöfer, co-founding CEO of Bookwire; and Ahmed Elgammal, a computer science professor at Rutgers University.
Additional speakers and performers in THE ARTS+ programming for 2018 include, from left, Stefano Bergonzini, Saskia Kress, Barbara Lüneberg, and Harry Verwayen
Performances and Tickets
In addition to the programmed sessions, performances are being laid on, as well, featuring:
Ticketing information for THE ARTS+ events can be had here, and the full schedule is available here.
Image: Frankfurter Buchmesse, Alexander Heimann
---