H-E-B announces development of tech facility, innovation lab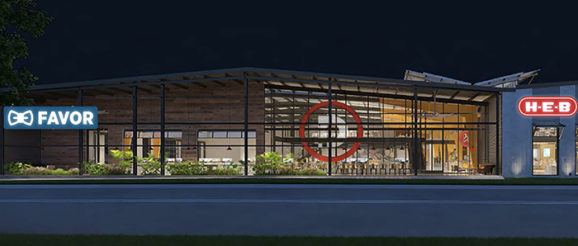 DSN AM
Hy-Vee dietitians to provide consultations during National Family Meals Month
As part of National Family Meals Month, more than 200 in-store dietitians at Hy-Vee will continue to provide in-store consultations with customers to help them with their dietary needs, the company announced Tuesday. They will conduct store tours to help shoppers make better nutrition choices, and lead courses on such topics as kids' nutrition and lifestyle management. They also will lead Kids in the Kitchen family cooking classes for families to learn to prepare food together.
Created by the Food Marketing Institute, National Family Meals Month in September is intended to raise consumer awareness of the health and societal benefits of sharing frequent family meals. Research shows that children who share regular family meals benefit from better grades, improved nutrition, stronger family relationships and higher self-esteem, and they are less likely to use drugs and alcohol.
"Many families have very busy schedules, but they also want to eat and be together," Hy-Vee's chairman, CEO and president Randy Edeker said. "This month, we are focused on ways we can make mealtime even easier and bring families back to the dinner table."
"Recent research says that more than three-quarters of families report that conflicting schedules are a barrier to eating together on a regular basis," Edeker said. "That's why Hy-Vee is working hard to provide tips and tools to give families easy, mealtime solutions so they can have at least one more family meal together each week."
In addition, Hy-Vee's in-store chefs will conduct cooking classes, develop and prepare recipes that are offered in stores and collaborate with Hy-Vee dietitians to share healthy meal ideas with customers and various community groups.
At all Hy-Vee Market Grille and Market Grille Express restaurants, children eat free, with the purchase of an adult entrée, throughout September.
Daily recipes will be shared on Hy-Vee's Twitter page with a focus on National Family Meals Month. Weekly recipe ideas will also be shared on Hy-Vee's Facebook page. Family meal deals also will be highlighted each week in stores for customers looking for grab-and-go dinner options such as prepared foods or Mealtime Kits that make cooking easy.
Three partnership donations also will take place with Hy-Vee during National Family Meals Month to bring attention to the importance of eating with family members.
In partnership with the Iowa Beef Industry Council, Hy-Vee dietitians will give away more than $10,000 in Hy-Vee Mealtime Kit vouchers to families they see cooking beef at tailgate gatherings during 16 college or NFL football games across the upper Midwest. Other beef deals will take place throughout the month.
Hy-Vee and Hormel are donating more than 26,000 jars of Skippy Creamy peanut butter to Harvesters – The Community Food Network, in Kansas City, Missouri. Recipe cards with instructions on making filling breakfasts, lunches and dinners will be included with the donations.
Hy-Vee is working with The Soulfull Project, for a large-scale donation of more than 20,000 servings of multi-grain hot cereal to the Food Bank of the Heartland in Omaha, Nebraska.