Meet London Summit's Crypto Innovation Stage!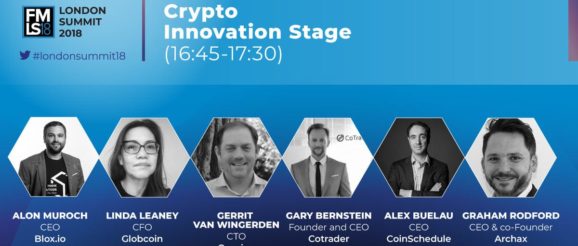 With under one month to go until London Summit 2018, the excitement is growing. One of the gems of the event's extensive crypto agenda is the Crypto Innovation Stage, where six firms from all corners of the crypto market will display their wares and make a case for their contribution to the evolution of crypto trading.
Meet the Participants
Blox.io
Join the Leading Industry Event!
Blox.io is a next-generation platform for managing and tracking crypto assets, suited for companies and individuals. The group represents a cross-device that compatible on iOS, Android and Web, and is looking to disrupt crypto asset management.
Globcoin
Globcoin is a crypto platform that provides access to stable payment tokens. The first stablecoin will be the GLX based on a fiat currencies basket with proven reliable performance, while the platform is accessed by its native token, the GCP Utility Token.
Caspian
Caspian is a complete asset management solution that covers the lifecycle of the trade. It includes a fully developed OEMS, PMS, and RMS, along with a single interface into all major crypto exchanges, a complete suite of sophisticated trading algorithms, real-time and historical P&L, and exposure tracking.
CoTrader
CoTrader's Smart Funds platform is the world's first working blockchain investment funds marketplace, which empowers anyone to create or join funds. CoTrader incentivizes leading investors and traders to come to compete and multiply their own gains the more they earn for their cotraders.
CoinSchedule
CoinSchedule is a platform that allows users to find the best ICOs to join. The company works to provide useful and transparent information on ICOs, helping users find projects that have a great potential for success. In addition, CoinSchedule offers a marketing platform for ICO projects to present themselves to potential users, while also developing ICOrank, an algorithm that allows it to measure the operational risk of ICOs.
Archax
Archax is a new institutional-grade exchange for trading crypto/digital assets, built for institutions and run in a regulated manner with them in mind. Founded by experts from the financial markets and backed by an accomplished advisory board, Archax offers a credible bridge between the new Blockchain-centric 'tech' community and the traditional investment space.
Hosted at Old Billingsgate on November 13-14, London Summit 2018 features something for everyone. Attendees are encouraged to sign up and reserve their seat for what will be a bigger and better summit than ever before. The event offers the standard trading industry gathering for learning, meeting contacts, and creating new business.
How Does it Work?
Each company will have five minutes to showcase its respective product or solution and explain to the panel how it contributes to the crypto community, and field questions from the audience, a mixture of financial services industry participants and avid crypto believers.
At the end of the session, the audience will have a chance to vote for the most impressive and valuable project, which can be done so via our Slido system, on their mobile devices.
The winning product will earn the title of Most Outstanding Crypto Product Award, which will be handed out at the event's conclusion with the London Summit 2018's general awards ceremony.
Eternal Glory
The London Summit has hosted similar competitions in the past, for both the retail and institutional FX industries. In the past, companies such as Tradimo were recognized at the London Summit for the most Innovative Product Award for its powerful Client Acquisition Tool.
By extension, other groups have also leveraged such competitions to gain high levels of exposure, including BestX last year, having earned the title of Most Outstanding Institutional FX Product. Make sure not to miss this session to find out the next big product in the industry.
Proud to be awarded Most Outstanding Institutional FX Product @financemagnates Thanks! #BestXpic.twitter.com/hyVrzaYjfd

— BestX (@BestX_Ltd) November 21, 2016
Make the most of your time this November by meeting top blockchain startups, service providers, and other crypto specialists. In addition to the Crypto Innovation Stage, notable highlights include the following panels and signature discussions:
Industry-leading CEOs Talk Crypto's Future
As is customary, every year of the London Summit features one of the most important discussions, i.e., the CEOs panel. Featuring a hand-picked panel of some of the industry's top talent in a roundtable discussion, cryptocurrencies will once again be a marquee topic.
Attendees can expect multiple different topics to be included during the panel, with this year emphasizing the role of cryptocurrencies in OTC trading. The topic is of particular note as demand for these instruments has grown throughout the year – this is one panel you do not want to miss.
The Cryptocurrency Survival Kit for Brokers
Few spaces have been through more upheaval during the past 12 months than the cryptocurrency industry. Following its rise to prominence, the industry has transformed, rather quickly, into a fully-fledged segment. However, 2018 presents its own unique challenges, many of which have threatened to extinguish many an exchange or broker.
Indeed, as a fundamental component of many retail brokers' offerings, cryptos are here to stay. In this seminar, attendees will learn from three leading experts about the most critical components surrounding the successful integration of cryptocurrencies.
This includes tips and tricks for proper risk management and a step-by-step guide to smoothing out the payment process as well as linking up with exchanges.
Blockchain, DLT, and the Future of the Behemoths of Finance
Emerging technology has always changed the way humans transfer value. Blockchain is at the forefront of innovation today, transforming the machinery of the existing financial system, as well as offering new mind-boggling possibilities.
This panel will explore some of the questions brought about in this brave new world. What's the impact of the adoption of distributed ledger technology on the financial sector to date? What challenges await the buy-side in keeping up to speed with innovation? What will the short- and long-term future of financial services look like, and how should it look?
Attendees can expect a review of the current state of major DLT projects and a forward-thinking discussion about blockchain and the future of financial services.
Impact of Regulating ICOs: A Global View
Initial coin offerings (ICOs) have managed to eclipse 2017 already and are only increasing in frequency and worth. For these reasons, regulators and global authorities have moved to police this segment perhaps more so than any other, given the large swaths of cash changing hands.
Will ICOs continue to flourish moving forward in a more regulated manner? This year's seminar will address this and other concerns, such as the large percentage of projects that have resulted in disaster for investors. With ICOs now firmly on the radar of regulators, new projects and startups have had to adapt to a newly defined playing field.
Cryptocurrency Trading: Breaking down Retail and Institutional Models
Crypto trading is no longer just a retail phenomenon, with leading institutional venues such as CME Group and CBOE embracing Bitcoin futures at the tail end of 2017. This year's panel will touch on the specifics of cryptos in both the retail and institutional space, as well as the impact of regulations.
As recently as last week, for example, CME Group's CEO has gone on record saying they will no longer be introducing more crypto futures. Does this represent a changing perception around these instruments or just a corner case?