New Lab for Sport Innovation and Research Announced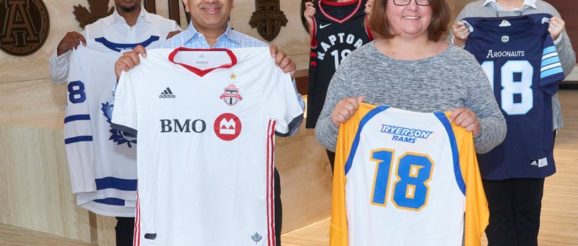 Ryerson University and Maple Leaf Sports and Entertainment, Ltd. (MLSE) announced this week a new lab for sport innovation and research called the Future of Sport Lab (FSL), one of the first of its kind in North America.
The objective of the FSL is to be Canada's leader in sport innovation, creating a sport business ecosystem that will connect Canadian sport properties and industry partners, entrepreneurs, faculty and students. Together, they will support and foster innovative sport business along with sport industry research, insights and education.
The first component of the FSL will be an incubator for sport-related startups open to entrepreneurs from across Canada. Operated under the direction of Cheri L. Bradish, Loretta Rogers Research Chair in Sport Marketing with the Ted Rogers School of Management at Ryerson University, the FSL incubator will start accepting applicants in October 2018.
"Toronto is truly a world-class sport business city. The Future of Sport Lab will bring together the incredible talent that's already here and give them a chance to collaborate and create solutions with real world impact. This will be the new home of sport innovation in Canada," said Bradish.
"Ryerson continues to be a leader in creating business ecosystems anchored by innovation and entrepreneurship," said Ryerson University President Mohamed Lachemi. "We're thrilled to share this vision with MLSE to ensure Canadian sport and sport business are shaping the global future of sport," he added.
"Toronto has established itself as a world-class sports and entertainment market for our teams and venues, but also as a leader in the business of sport," said Michael Friisdahl, MLSE president and CEO. "This partnership with Ryerson will support the talent and innovation that has contributed to the city's strong global reputation and continue to create opportunities for success in the industry in the future."
Activities of the FSL will include:
Creative research and innovation partnerships
Applied research and needs assessments to identify emerging opportunities and solve real world problems
Support for startups including the potential opportunity to have MLSE pilot testing of products/services
Research forums to bring together experts to identify emerging trends and solve practical sector challenges
"Delivering championship teams and the ultimate fan experience for our fans is MLSE's primary focus," said Humza Terehany, chief technology and digital officer at MLSE.
"Innovation is a key part of our ability to enable our teams to perform at the highest levels but also to deliver new ways to engage our fans with exciting new technology."
The collaboration between Ryerson and MLSE will also result in the development of complementary sport business programming at both the MBA and undergraduate levels.
For further details, please visit www.futuresportlab.com, external link.