Saudi Arabia pioneers the next era of food security innovation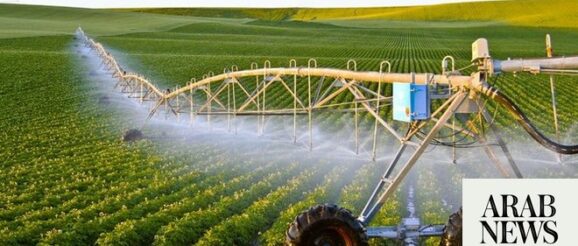 RIYADH: As the global population surges, securing a stable supply of food and water has become paramount for a sustainable future. 
Saudi Arabia, ever at the forefront of change, places this challenger at the center of its sustainability initiatives. 
Driven by government entities and small to medium-sized enterprises, Saudi Arabia's food security landscape is experiencing notable transformations, with various stakeholders actively contributing. 
"Over the past decade, Saudi Arabia has made significant strides in bolstering its food security," Abdulaziz Al-Saud, CEO and co-founder of Barakah, a Saudi enterprise focused on reshaping the food security scene, told Arab News. 
Al-Saud emphasized the Kingdom's initiatives to diversify and localize food sources, reducing dependence on imports.  
"This involves significant investments in agri-tech and the acquisition of overseas farmland," he noted, adding: "Technological adoption has been equally central to this advancement." 
Al-Saud set out how modern agricultural techniques have been employed to enhance local production, minimize water wastage, and boost efficiency in the agricultural sector.
The significance of these efforts was underscored when the Kingdom's General Authority for Statistics reported self-sufficiency in the production of dates, dairy products, and eggs in September. 
These figures also revealed that Saudi Arabia produces more than enough of these three food items to meet local demand, meaning it has excess capacity for export. 
Al-Saud also spotlighted the Kingdom's commitment to addressing global food supply challenges, referencing the Ministry of Environment's recent launch of a $10 billion action plan. 
"The Kingdom also managed to reduce water usage for agricultural purposes by over 40 percent, addressing one of our key challenges – water scarcity," he said. 
"In 2022 alone, the agricultural sector witnessed a growth of 7.8 percent compared to the previous year, underscoring the positive impact of our food security strategies," he added. 
Sky Kurtz, CEO and founder of Pure Harvest Smart Farms — a leading UAE-based agri-tech enterprise — shed light on additional Saudi initiatives poised to redefine the future of food security. 
"Saudi Arabia has been extremely proactive to advance food security, with both offensive and defensive policy measures," Kurtz told Arab News. 
"For example, the Kingdom imposed and has been raising import tariffs on various food products as a means of protecting domestic producers and improving their competitiveness for the local market," he added. 
He also referenced Saudi Arabia's Agricultural Development Fund, which has implemented rigorous initiatives to fuel the sector's advancement. 
"When we look at the development and support of sectors we operate in with Pure Harvest, we've seen significant progress from dedicated initiatives, programs and entities to support the industries that are best equipped to address food security and import dependency challenges in the Kingdom," Kurtz added. 
Being a main driver of economic prosperity, technological solutions have also played a significant role in addressing food security challenges. 
Al-Saud explained that Saudi Arabia has invested heavily in precision agriculture, harnessing data analytics, drones, and Internet of Things to monitor crop health, manage irrigation, and control pests. 
"This has resulted in enhanced yields and significant conservation of resources. The Kingdom's turn to soil-less farming techniques like hydroponics and aquaponics enables food cultivation in controlled environments, dramatically conserving water and ensuring consistent production regardless of seasonal changes," Al-Saud added. 
Additionally, reducing food waste is pivotal for a sustainable future. 
"Barakah is a prime example of this, with its online marketplace connecting food retailers with surplus inventory to consumers in Saudi Arabia, ensuring efficient utilization of food and promoting its sustainable consumption," Al-Saud stated. 
Approximately 20 percent of food waste happens in households, making awareness and educational campaigns vital, according to Barakah's Al-Saud. 
"The progressive synergy between food systems and technology, exemplified by Saudi-based ventures like Red Sea Farms, Mowareq, and Barakah is paving the way for a more sustainable and secure food future for Saudi Arabia," he stated. 
Kurtz further illustrated the significance of small and medium enterprises in tackling the multifaceted food security challenge. 
"Governments and large companies simply cannot solve every problem by themselves, and often don't have the agility and flexibility that SMEs bring," he said. 
"As we've directly set out to do with our business, SMEs can identify and solve for very specific 'pain points' and create businesses to capitalize upon these opportunities, including in food security," Kurtz added. 
Kurtz further noted that SMEs have the ability to develop solutions that are pivotal in transforming the current food system. 
"Often backed by risk-seeking capital willing to take risks and trial new, innovative technologies, business models, etc. SMEs are essential to improving food security and changing the status quo – all contributing to and even driving forward the region's economic growth and diversification ambitions to tackle the biggest challenges of our time," Kurtz stated. 
Al-Saud emphasized that investing in innovation across various sub sectors is crucial for addressing overarching challenges. 
"By investing in innovation in key areas such as water desalination, efficient irrigation technology, protected agriculture, hydroponics, plant breeding and soil restoration, Saudi Arabia will provide commercial solutions that can be readily deployed to build resilient arid land agricultural systems worldwide," he added. 
According to Al-Saud, the Kingdom's institutions are proactively moving to harness these technological advancements.  
The Saudi Green Initiative plans to plant trees in soils produced by Saudi-based composting companies such as Edama. This supports the local supply chain and facilitates the construction of monumental projects like the King Salman Park in Riyadh.  
Furthermore, NEOM intends to construct the world's most sustainable food systems using technologies developed at King Abdullah University of Science and Technology.  
Al-Saud underscored the remarkable degree of cross-sector collaboration in the Kingdom, suggesting that this integrated approach might be challenging to replicate globally. 
"Looking ahead, Saudi Arabia is continuing to invest in technology and fostering international partnerships to strengthen its food security framework further," he said.  
"This holistic approach encapsulates Saudi Arabia's journey towards enhanced food security and its continued commitment to addressing the challenges that lie ahead," Al-Saud added. 
With the Middle East and North Africa Climate Week set to unfold in Riyadh from Oct. 8-12, global leaders are converging to deliberate on the region's active measures and achievements in sustainability.   
Workshops, panel discussions, and fireside chats will be featured at the summit, covering topics related to climate, food security, and beyond. 
CAIRO: Saudi Arabia's startup ecosystem continues to thrive amid government efforts to support the sectors and growing investors' interest in different sectors.
Described as the most substantial series A funding in the Middle East's software-as-a-service domain, the financing was spearheaded by Saudi Arabia's Merak Capital.
Established in 2016 by Mohammed Al-Johi, Jisr claims to be Saudi Arabia's pioneering HR management platform, serving a clientele of over 3,000 across approximately 16 sectors.
In an interview with Arab News, Al-Johi elucidated how this capital infusion seeks to amplify the company's operational prowess and growth ambitions.
The entrepreneur aims to leverage the funds to bolster Jisr's existing operations and to venture into synergistic verticals.
Data issued by the Federation of Saudi Chambers reveals a robust HR market in the Kingdom, valued at over SR6 billion. 
Global data firm Statista forecasts that the software as a service market in Saudi Arabia will see an annual growth of 5.03 percent from 2023, reaching $519 million by 2028, up from $406 million this year.
"We are redefining the scope of HR software, moving away from just an HR information system software to a suite of products built around employees," Al-Johi said.  
"With this investment, we will speed up delivering our mission of building the HR ecosystem for small and medium enterprises in the region, it will help us serve more customers and improve their productivity when it comes to managing their people," Al-Johi stated.
"Through Merak's investment in Jisr, our goal is to advance the modern HR technology system. We aim to achieve this by developing products that enhance every aspect of HR operations, from recruitment and management to payroll processing, all seamlessly integrated with various platforms," he added.
"Integrations are expected to continue to play a pivotal role in the ecosystem," Al-Tamimi said, adding to Al-Johi's mission of creating a more comprehensive product.
"The more integrated the solution, the more powerful it will be in serving businesses and their needs, whether they are small and medium enterprises or large corporations," he added. 
We are redefining the scope of HR software, moving away from just an HR information system software to a suite of products built around employees.
Al-Tamimi further elaborated on Jisr's position in the Saudi market, emphasizing the company's significant potential.
"Jisr is the leading player in the market currently, and we see it maintaining that leadership role," Al-Tamimi stated.
"As a pioneer, Jisr will be expected to be up to date in the latest offerings for the market, as well as pushing the innovation wheel forward," he added.
The company currently provides innovative solutions to enhance HR management for businesses. These solutions encompass attendance tracking, adaptable payroll integrations, business trip coordination, and performance analytics tools.
Commenting on Jisr's future plans, Al-Tamimi indicated that the company is considering introducing additional fintech solutions.
He said: "We expect further fintech solutions from the company and a bigger role from established financial institutions in enabling SMEs through their HR systems and peripheral tools."
"We started in 2016 serving very small businesses and covering only the operation side of human capital. We have expanded since then to serve mid-market and build products to digitize the whole HR cycle. We are launching our Jisr Applicant Tracking System and will launch three more products in the next year," Al-Johi said. 
Merak intends to continue its investment in more and new SaaS verticals, especially business-to-business core solutions that are essential for businesses to operate.
Building on its established customer base, Jisr is poised to further transform the HR landscape, targeting significant growth in 2024.
"We have been recording more than 150 percent year-on-year growth in the last few years and our platform is used by more than 350,000 employees. Our next target is to have 1 million registered employees," Al-Johi stated.
Global data firm Statista forecasts that the software as a service market in Saudi Arabia will see an annual growth of 5.03 percent from 2023, reaching $519 million by 2028, up from $406 million this year.
Additionally, enterprise software and IT solutions were one of the most funded sectors in Saudi Arabia in 2022, garnering $104 million across 19 deals.
Furthermore, Merak Capital stands as one of Saudi Arabia's leading investors in SaaS solutions. Al-Tamimi said the company plans to ramp up its activity even further.
"With multiple SaaS companies in our portfolio, we have developed market expertise in how SaaS platforms scale in the region, and more specifically, Saudi Arabia," he said.
"Merak intends to continue its investment in more and new SaaS verticals, especially business-to-business core solutions that are essential for businesses to operate, with a focus on locally integrated products that can compete with both local incumbents and international new entrants," he added.