Space10 to close after 10 years of driving innovation at IKEA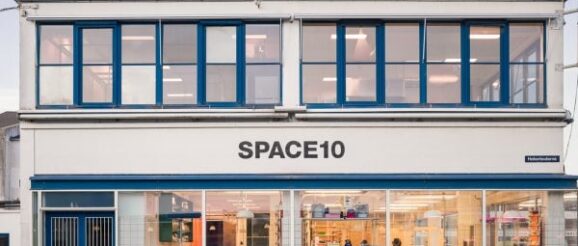 IKEA's design research lab Space10 is set to close its doors, stating that it has "achieved what we initially set out to accomplish".
Copenhagen-based Space10 will disband on 1 September after nearly a decade of producing innovation-led projects on behalf of Inter IKEA Group, the parent company that oversees all IKEA operations.
In a statement, the studio said it has fulfilled its goal of bringing "an outside-in approach to innovation" to the furniture retailer.
"Space10 was never meant to last and, after a decade working with IKEA, we have achieved what we initially set out to accomplish," said Space10 co-founder Kaave Pour.
Space10 co-founder Simon Caspersen told Dezeen that the studio had "over-delivered" on the objectives set out when the studio first formed in 2014.
"Innovation wasn't really on the agenda at IKEA when we first started," he said.
"One of the primary purposes of Space1o was to spark that innovation culture, which has really happened. It is a very different company now than when we first started."
Space10 is a private company, co-owned by Pour, Caspersen, fellow co-founders Carla Cammilla Hjort and Guillaume Charny-Brunet, and partner Daniel Friis.
IKEA has funded the lab since it was established in 2014 and is its sole client. Work explored topics that will influence how homes and cities will be designed in the future.
Key projects include Tomorrow's Meatball, which looked at the future of food and farming, Urban Village, which proposed a new ownership model for housing, and Couch in an Envelope, which suggested how AI could impact product design.
Jon Abrahamsson Ring, CEO at Inter IKEA Group, said the collaboration had been "a great learning with multifaceted achievements and outcomes".
"Space10 has challenged our mindset of thinking outside the box; they have been our eyes around the corner looking into the future, facilitating new partnerships and business ventures, [and] helping us investigate how we can create a better everyday life for the many people," he stated.
"But perhaps most significantly, the partnership between Inter IKEA and Space10 has motivated our internal innovation culture and inspired us in how we approach innovation at IKEA."
Space10's landmark achievements include developing the augmented reality app IKEA Place, touted by Apple CEO Tim Cook as "the future of shopping".
It played a key role in IKEA's strategy of opening stores in urban locations and offering a more sustainable and healthy food menu to its customers.
It also launched pop-up exhibitions and workspaces in New Delhi, New York, London, Mexico City and Shanghai, in addition to its Copenhagen headquarters.
Space10 publications include two books, Future Food Today and The Ideal City, and influential reports covering topics including solar power, co-living and youth culture.
Space10 has already begun to wind down its operations. Its team of 23 will cease working after 1 September.
All of the lab's projects and reports will remain accessible to the public. Presentation templates, guidelines and team handbook have also been made open-source, via a website that went live today, 29 August.
The post Space10 to close after 10 years of driving innovation at IKEA appeared first on Dezeen.