Study: Magazine Publishers Still Eager for Print Innovation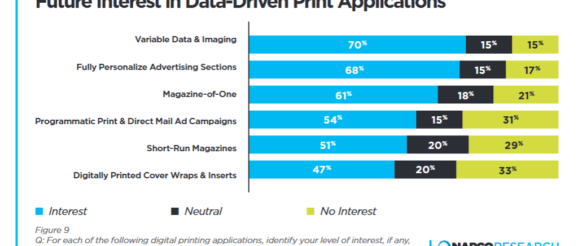 I often hear folks in the magazine industry lament the fact that there's not an appetite for innovating and reinventing print publications, despite the still significant role print plays in many publishing companies' business models.
We've reported on some interesting innovations and possibilities for making print products more targeted and data-driven. Earlier this year Elle magazine created a personalized cover message for fans of Kim Kardashian West. And PubExec columnist Dead Tree has written about how Audience Innovation has created a robust business out of data-driven cover wraps and inserts.
But we haven't seen widespread adoption of these applications.
However, a new study shows that magazine publishers are in fact eager to innovate their print products, but also reveals some of the obstacles publishers face in doing so. The research report, conducted by NAPCO Research and commissioned by the Specialty Graphic Imaging Association (SGIA), explores how magazine publishers are currently using digital printing, potential interests for creating more engaging print products, and key challenges faced in adopting digital printing.
(Download the full report for free here.)
The report, How Magazine Publishers are Using Digital Printing to Enhance Print Products, found that 69% of magazine publishers are using digital printing in some way, particularly for such applications as targeted short-run magazines and custom cover wraps and inserts. The research also shows that a smaller percentage are experimenting with advanced programs such as a "magazine-of-one" and fully personalized ad sections.
Broadly speaking, the technology required to produce custom cover wraps and inserts has been around the industry for quite a few years – though there have been significant improvements in quality, speed, and automation.
And while these capabilities enable publishers to make their printed products more targeted, publishers are minimally taking advantage of digital printing capabilities to target readers on an individual level using variable data printing, use personalized direct mail to drive advertiser engagement, or produce personalized or advertising sections. This despite the fact that the use of rich audience data to guide online marketing has become standard practice.
All of this said, magazines publishers are far from giving up on print as a platform for innovation. The study reveals that publishers indicated that they are looking for ways to innovate in print in order to improve audience engagement as an end in itself and to increase reader engagement with advertisers so they see greater return on advertising spend.
Publishers surveyed indicated a high interest in the data-driven print applications that digital printing can produce (Figure 9). Specifically, 70% of publishers have an interest in "variable data and imaging," 68% in "fully personalized advertising sections," and 61% have an interest in creating a "magazine-of-one." This pattern of interest among publishers shows that they see an opportunity to make their print publications more data-driven in order to make them more relevant for the end-user.
So why is there a divide between the potential publishers see in data-driven print and actual adoption of these strategies?
Well there are quite a few reasons – a lack of understanding of digital printing capabilities and how hot to apply them among publishers is a significant hindrance. 34% of publishers said they don't have the right programs to apply digital printing to and 34% don't know enough about digital printing. Clearly education is an issue. However, the number one impediment to greater adoption of digital printing among publishers is that they don't see the ROI (39%).
And what do publishers think would help them use digital printing to launch innovative, data-driven print products?
In addition to educational efforts, publishers indicated that the availability of reduced cost trial programs would most likely spur their use of digital printing and to experiment with new print products.
These types of programs would enable a publisher to test out new capabilities and launch seed campaigns in order to prove out ROI with less risk and scale up the efforts if effective. This type of proof of concept (POC) is commonplace among online technology providers, especially when new tools are released or startups enter the market.
POC's also provide an opportunity for publishers to learn potential use cases from their peers. While such demos certainly take place, there either isn't enough of them or they are going unpublicized, a missed opportunity for valuable education in the industry.
For their part, publishers should spend some time talking with their print vendor to see if some of their more recent capabilities might line up with advertisers' business objectives. In an era of consumer data privacy concerns, disinformation campaigns, and brand safety, marketers could have a renewed interest for reaching highly-qualified prospects in a low-noise, brand-safe environment.