Why Analysing Human Behaviour Trumps Analysing 'Session' Behaviour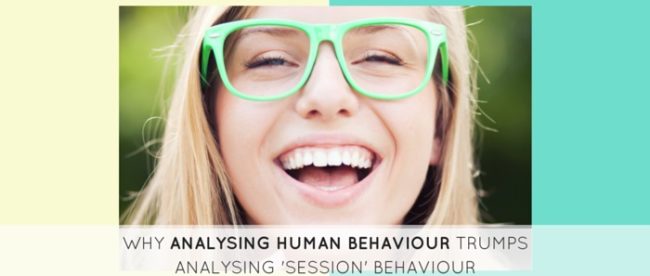 Digital Marketers and Consultants tend to rely heavily on data to shape decisions, strategy and marketing budgets. A lot of time is invested in analysing, interpreting and providing insights or developing hypotheses to improve performance. Consistently sifting through Google Analytics data and dashboards, Crazy Egg reports, Formisimo, excel sheets, pivot tables, and on and on………
We tend to spend so much time focusing in on the numbers and metrics like impressions, bids, conversions, bounce rates and observations like "click through rate increased by 4.2% month on month", "exit rate from this page is 30% above site average, and more pronounced from mobile" or "conversions (customer acquisition) is down 25%"  it's easy to forget about the people actually generating those numbers.
The below video gets this point across nicely, and although humorous, it is a sad fact that many companies still subject their customers to a painful online experience because they forget to make a connection between the data to the actual person behind the numbers.
Don't get me wrong, analysing, making sense of and providing insights around quantitative measurement and research is important. It has its place and provides insights into 'what' occurred, but I believe more needs to be done to add a layer of context in relation to the actual person (your customer) behind the numbers, to uncover the 'why', if we are to really shift revenue and ROI upwards and beyond.
Why, why, why?
If we understand the Why, we have more insight into the human behaviour (not 'session behaviour'), emotion, and the personality characteristics that quantitative data cannot match. By better understanding your customers behaviours, needs, desires, routines, use cases, pain points, we, as marketers, for example are able to craft better ad and site copy, include more persuasive imagery and communicate benefits that really appeal, create and portray offers in a way that compels your customers into action, focus A/B tests on those elements that are the real decision and revenue drivers.
Let me explain 'why'
Let's assume your problem is lead acquisition (you've seen the numbers and conversion rate of successful online enquiries is not what they should be). The obvious, initial onsite focus point then becomes your enquiry form, but despite running multiple A/B tests you're not seeing a big increase in conversions. So we know the 'what' (conversions are down), but we don't know 'why'.
To get a better understanding from your visitors as to what is preventing them from filling out the enquiry form, you implement an exit survey for visitors using Qualaroo – "What prevented you from contacting us today?" The answers received are not at all what you were expecting, and don't relate to the enquiry form at all.
Responses tell you that visitors were confused as to what you were actually offering, and they had unanswered questions. They simply needed more information, and a more compelling reason to act, before they were ready to take the next step and enquire.
Now consider how much time you spent working and testing variations on the enquiry form, how much time and effort you wasted analysing formisimo data, crazy egg and GA reports.
Adding an FAQ to answer common questions, and clarifying the benefits of how your offer solves their problem, could have produced much more significant results.
Only once we start to truly understand the motivations and behaviour of our target audience, can we truly create marketing campaigns worthy of case studies. 
Every so often, it's important to venture outside of all the dashboards and spreadsheets to actually engage with, and understand your customers. The gold lies in discovering the emotional triggers that influence your customers purchase decisions.
This post from WordStream provides a good illustration of the power of tapping into your customers emotions to improve performance from PPC campaigns.
Helpful tips and tools
Below are a few of our favourite ways & tools we at FIRST use to uncover more about our clients customers:
Favourite Tool:Â Qualaroo
What: Helps you gather data (who, what, how, where) from a lot of people quite quickly.
Tip:Â  Ask visitors about friction and ask customers about retention.
Favourite Tool:Â User Testing
What: Get videos of real people using your website or app
Tip:Â  Great for uncovering technical site issues too
Favourite Tool:Â Zopim
What:  Live Chat transcripts tell us what people are looking for who don't want to search. It also tells us what is missing from a site or what is hard to find.
Tip:Â  Ask the right questions. What has been the most frustrating part of your search today?
Favourite Tool: Phone
What:Â Having a direct conversation with someone who has purchased something from you. Nothing beats actually talking to your target audience.
Tip: Interview your sales / customer service staff too. They're on the ground talking to your visitors and customers every day. Record the conversations if possible
Conclusion
Without knowing what your customers are thinking, it's very difficult to solve a problem you don't fully understand. If you can't figure out WHY your site visitors (prospective customers) aren't behaving as expected, qualitative research can help fill the gap and enables a peek inside the mind of the people you're trying to form a relationship with. By better understanding your customers, you can serve them better, and that's just better for everyone!