Xconomy: 15 San Diego Companies Chosen for Defense Innovation Program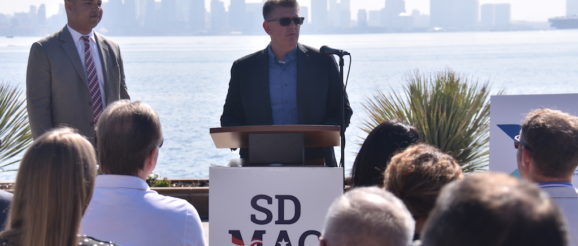 Share
A federally funded pilot program will provide 15 local defense contractors with free consulting services and six monthly "boot camp" workshops as part of a regionwide effort to help such companies better prepare to navigate changes in federal defense funding.
Technology developed in San Diego for defense purposes has helped to seed the region's private sector with employees who have skills in fields like cybersecurity, engineering, and biotechnology, as well as spur commercial innovation, according to a report published in October by the San Diego Military Advisory Council (SDMAC).
The aim of the new Defense Innovation Voucher (DIVx) program is twofold—to help companies diversify their government or defense contracts and to explore commercial markets, according to a prepared statement from the SDMAC.
San Diego is home to the U.S. Navy's largest base on the West Coast. It is also where the Navy's Space and Naval Warfare Systems Command (SPAWAR) is based; nearly half of the 10,000 people employed worldwide by SPAWAR are based locally, including those at the SPAWAR research facility in Point Loma.
The SDMAC report estimated the San Diego region saw more than $25 billion in direct defense spending in fiscal 2017. The report (the organization's ninth annual) estimated that about $10.5 billion went to employee compensation, about $9.5 billion to procurement and other spending, and $5 billion to retirement and veterans' benefits.
But the region's defense contractors are primarily small businesses, and some are relying on one or two large contracts for revenue. According to the San Diego Regional Economic Development Corporation (EDC), 89 percent of firms in San Diego's defense supply chain employ fewer than 50 people—and 40 percent of the companies registered in the county as defense contractors employ fewer than five.
The companies that were selected for the inaugural DIVx cohort together employ more than 400 people locally, according to SDMAC. Consulting giant Booz Allen Hamilton, which is based in McLean, VA, is sponsoring the program. The firm, which does most of its work for the U.S. government, is currently expanding its presence in San Diego, hiring for more than 150 jobs.
Companies selected to participate are slated to receive consulting services worth up to $15,000, enrollment in a half-dozen workshops, held one day per month, where company leaders will hear from guest speakers and subject matter experts, and the opportunity to compete in a contest for additional consulting services worth $25,000.
In July of 2016 a DoD division tasked with helping communities being impacted by changes to defense programs awarded a $1.7 million grant to the city of San Diego. The grant was used to establish Propel San Diego, an initiative through which six local organizations, including SDMAC and the EDC, are collaborating to bolster defense firms in the region. (The East County Economic Development Council, South County Economic Development Council, and San Diego Workforce Partnership are also involved.) DIVx is an initiative of Propel San Diego.
The companies selected for the DIVx program are:
Accel-RF Instruments Corporation
Amaratek
American Lithium Energy Corporation
Coast Precision Enterprises
EpiSys Science
Fuse Integration
GET Engineering Corporation
intelliSolutions
Marine Group Boat Works
Ocean Aero
Planck Aerosystems
Sidus Solutions
Trabus Technologies
VetPowered
Vortex Engineering
Sarah de Crescenzo is the editor of Xconomy San Diego. You can reach her at sdecrescenzo at xconomy.com.
Trending on Xconomy