Preview: The ThinkPad P1 is Lenovo's MacBook Pro rival with a better screen and lots of design innovation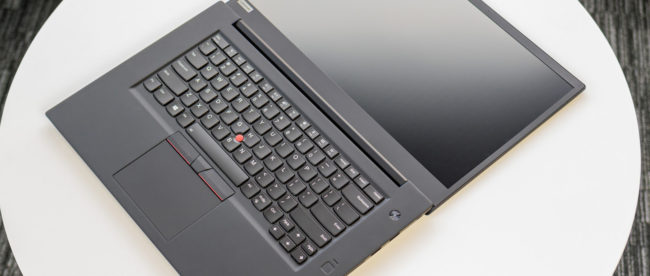 The ThinkPad P1 is a 15-inch mobile workstation that's unchained by not being a souped up gaming or business laptop.
Most 'workstation-class' models targeting pro artists, designers and editors are based on chassis designed for other purposes. Dell's Precision 5530, for example, is based on its XPS 15 gaming laptop. Lenovo's new 'thinnerst-and-lightest ever' mobile workstation has been designed from first principles as being for creatives – whether Digital Arts readers, architects or product designers – so there elements that you'll really appreciate.
For example, no gamer is going to care that that you can push the P1's screen all the way back so it lies flat on your desk or table. But for us, this turns the touchscreen from being a better way to interact with your apps' interfaces when in tight spaces like this flight to Siggraph I'm on right now, into a Cintiq-like drawing surface. It's not quite as neat a design as 2-in-1 models like HP's ZBook x360 that can flip the screen all the way around, but it's a lot thinner.
At first glance, the P1 looks very much like any other Lenovo laptop – but the details reveal that this is something different. It's a deeper shade than most ThinkPads, more black than dark grey. There's a glass trackpad. We've no idea if it makes it more responsive, but it looks lovely. The whole chassis has been made better resistant to oil, so you should see fewer fingerprints on it than previous models.
There's been a real effort on Lenovo's part to create a product that has the aesthetics to match its performance. As Lenovo put it to us when showing us the P1, "look-and-feel matters".
Looking was all we could do at the P1 you see here. It was a non-working chassis to give us a sense of what the P1 will look and feel like in advance of its formal announcement at Siggraph, but Lenovo is sending us a review unit shortly, so we'll update this with a full review when that happens.
Under the hood will be 8th-gen Intel Core i5, i7, i9 and Xeon quad- and six-core processors and up to 64GB of RAM – twice that of the newest MacBook Pro (read our MacBook Pro 15-inch review). There's a choice of graphics chips topping out at the Nvidia Quadro P2000 (if you don't want Quadro graphics, you can order the P1 with a GeForce GTX1050).
As with the MBP, storage tops out at 4TB – though few will be able to afford a model with that level of drive space. Like most Windows-based mobile workstations, there's as full set of ports including two Thunderbolt 3, two USB, HDMI, mini-Ethernet and a headphone jack.
There are two screen options: a pretty-standard HD display or a 4K touchscreen with 10-bit colour and 100% Adobe RGB output. I think we know which one you'd prefer.
As with Lenovo's latest pro monitor (read out ThinkVision P32u review), there's a real sense of practical usability to the ThinkPad P1's design. Lenovo says that it's quiet – under 40dB – and that it doesn't get unbearably warm when on your lap, even after sustained heavy use due to where its placed the CPU and GPU.
When writing about laptops, we don't generally devote much attention to charging – but the P1 has a couple of very useful innovations. When plugged into the mains, Lenovo says that it will charge to about 80% power in around 30 minutes. You can also 'trickle charge' it off an in-flight USB connection – much more slowly of course, but useful during long flights like this one.
Lenovo has also created a small power supply for the P1 that shouldn't weigh you down too much, despite giving you 135W for rapid charging.
With one eye on the MacBook Pro's built-in voice assistant, the ThinkPad P1 has Amazon's Alexa built in. In my opinion, both are a gimmick – I don't think I've intentionally triggered Siri in the weeks I've had the latest MBP – but others may disagree.
Other features include Dolby Atmos sound and a fingerprint sensor.
Pricing begins at $1,949 (around £1,525) with a Intel Core i5-8400H processor, 8GB RAM, an Nvidia Quadro P1000 graphics chip with 4GB of RAM, a 1TB NVMe SSD and the HD screen.
Lenovo's largest mobile workstation
Alongside the P1, Lenovo has launched a mobile workstation with a 17-inch screen. Aiming to be a true 'desktop replacement', the ThinkPad P72 has 8th-gen Intel chips, up to 128GB of RAM, up to 6TB of storage with an optional 16GB of Optane memory that acts as a cache. It can even fit Nvidia Quadro P5200 graphics with 16GB RAM.